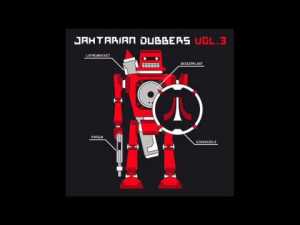 On first encountering Jahtari back in 2008 before having even listened to any of their music, I was sure I had stumbled upon something pretty good. The name alone was sheer brilliance, as were the low pixal-rate Atari style graphics on their website.
Sure enough upon hearing their anomalous laptop-crafted dubs, released on free Net 7″s, I became enamoured with what was at the time an obscure online label run by a couple of Germans from Leipzig named Disrupt and Rootah.
These were chaps from a techno music background who had a strange obsession with 80s video games. They had only recently begun dabbling with reggae after discovering the joys of dubwise music through Berlin-based Rhythm and Sound. Their early riddims weren't flawless, they had a distinct bedroom producer feel about them. But the ethos behind their sound grabbed me.
In contrast to so many tacky contemporary productions doing a sub-par job of faking a live roots sound, it was something of a revelation to hear unequivocal reggae music that proudly embraced its computerised mode of production. Jahtari were the original purveyors of the 'digital laptop reggae' sound. (more…)