NiceUp New Zealand is a community-based, collaboration-focused organisation that was formed in April 2005.
We promote reggae and bass music and culture in Aotearoa, New Zealand, and also focus on connecting the community world-wide.
NiceUp is run by a strong team of reggae lovers throughout New Zealand and the world. If you would like to be a part of our team please contact us, we would love to hear from you!
Link Up!
Email: info(at)niceup.org.nz
SoundCloud: www.soundcloud.com/nice-up-crew
MixCloud: www.mixcloud.com/niceupnz
NiceUp TV: www.youtube.com/user/NiceUpTV
Facebook: www.facebook.com/niceupnzee
Twitter: www.twitter.com/niceupnz
Instagram: www.instagram.com/niceupcrew
The Team
Art Official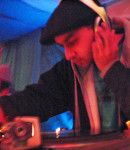 Newtown Sound operator and NiceUp co-founder, Art Official, is a long-time contributor to Aotearoa's ever-growing reggae music scene. He is an accomplished radio show presenter, beat-maker, producer, skilled sound-man, and a multi-instrumentalist. Combining his DJ skills with turntablism, Art has a love for tuff 80s digital, rub a dub, heavy roots, and the best in dancehall influenced hip-hop. He also showcases the finest New Zealand vocal talent and productions.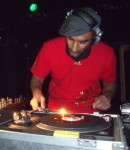 Conviction Roots
Originally hailing from Wellington, New Zealand, I have been a collector and selector since 2002. I started out with an interest in Asian underground and drum n bass, which naturally led me into reggae. The Roots Foundation sessions in Wellington left a lasting impression on me and sowed the seed for what was to come. Upon moving to the UK in 2001, I heard reggae played on a propa heavyweight sound system for the first time. From then on it became my main music focus and I have been hooked ever since. I love all styles from ska through to steppas and believe there is room for everyone in reggae, but my first love is 70s roots from the golden era.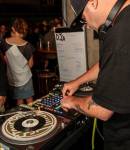 Danny Two Chains
I've always had a love for music from Jamaica. At the age of 12 I was introduced to ska and the whole Two Tone movement, running around in Brisbane, Australia, digging for 7's in Fred Perry's, loafers and pork pies. As I grew I developed a taste for the roots and rockers sound and even a little Shabba Ranks and Yellowman, but it wasn't until a good friend of mine, Rebel Bass, gave me a few of his mix cassettes in 1999 that I fully ensconced myself into reggae and dancehall. As a result of his influence I have pursued the sound I love and have now been selecting on Auckland's Base FM for coming on six years. I take a lot of influence from local selectors like Jafa Mafia, Dubhead, Grassroots and Sandy Bay Social Club, to name a few. Bless up!
Hawk i
Born and raised in Wellington, New Zealand, selector Hawk i resides in Melbourne, Australia. He has deejayed around Aotearoa and worked tirelessly in Wellington, bringing high energy and vibes to all of his sets. Also an experienced radio selector, he co­-hosted the weekly Roots and Culture and Homebass shows on Radio Active. Hawk i enjoys the challenge of working with MCs and singers to take music and dances to new levels. As part of the NiceUp Crew he has worked on national and international tour promotion, music reviews, interviews, film screenings, and generally bigging up reggae culture.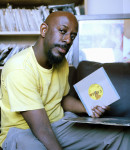 Mark Professor
Mark Professor is one of London's respected vinyl collectors. It was this path that led him to the world of sound systems, the collecting of legendary sound tapes, and eventually to chatting his own lyrics. His trademark style is topical and witty, harking back to the days sound system delivered the news, with MCs being the presenters. Since back in the day Mark has been involved in sound systems, from his first sound, Powerstar, to Nightlife Experience, still one of the leading street sounds, mashing up blues dances, clubs and parties in North-West London and the world. He went on to join current rub-a-dub sound Stereo City (the reggae subsidiary of the World Famous Soca Saga Boys). And since 2010, Mark has been a member of the East London, Wreck It Up Crew.
Plattsie OneVoice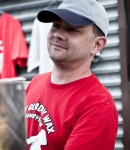 I started collecting tunes in the 90s. Living in central London I had the advantage of having shops like Wax Unlimited, Daddy Kools, Reggae Revive, Downbeat Down and Dub Vendor; and quality nights at Dub Club London and Jah Shaka. While I endorsed the explosion of UK 90s dub, it was always the revival tunes that got me. I have played a handful of sessions, mostly with the Tighten Up Crew and on Gladdy Wax Sound at Notting Hill Carnival. Check the OneVoice SoundCloud.
RedRobin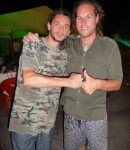 RedRobin is a selectah, photographer, and reggae journalist, and is currently trying his hand as a film maker on a documentary about sound system culture internationally. Originally from Wellington, NZ, he has been withering away his years on the road for a while now, and more recently spent considerable time in front of large European sound systems whilst living out of a removals van.
The Groove Thief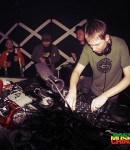 An American dub and reggae connoisseur currently based in Hong Kong, The Groove Thief has released over 40 mixtapes – including guest mixes for Bass Music China, Dub Temple Records, Dub.com, and "The Saturday Skank" (RTHK Radio 3) – and maintains Hong Kong's only music blog dedicated to dub, reggae, and the local music scene: TheGrooveThief.com. As a selector he has recently supported international artists such as Cojie [Mighty Crown], Mungo's Hi Fi, Suns of Dub, and Tippa Irie; in addition, he's performed at festivals like Clockenflap and Secret Island Party. Between running the influential "Pomegranate" residency at Oma (with ▶▶△), writing regular clubbing articles for Time Out Hong Kong magazine, and collaborating on events ranging from the Bauhinia Festival on Central Pier #10 to the George Lukas Reggae Movement parties, he is passionately involved in the local music scene like few others. The Groove Thief is also a member of the Paragon Sound System collective and has featured in BOOM Magazine Asia and the South China Morning Post.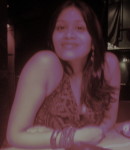 Venus Hi Fi
With a love and passion for bass music and culture, Venus co-founded NiceUp in 2005. This began with the website and an aim of providing an online space for the promotion of New Zealand reggae, and making connections internationally. She later began running local events which quickly developed into coordination of tours and shows for artists from around the world. Venus manages the website, tours, and all NiceUp related projects.