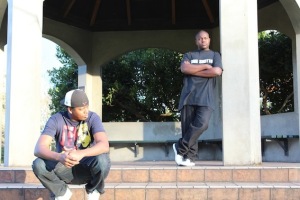 Max and Raiza: Caged Lion EP
S.O.A Entertainment/AMMONation
Release date: 20 April 2012
'Caged Lion' is a hip-hop meets reggae/dancehall collaboration between Rwandese, Hamilton bassed rapper Raiza Biza, and Zimbabwean and Wellingtonian, Max, from the prominent dancehall/hip-hop crew, Yung Shottaz.
The EP sees the duo doing what they do best over a backdrop of reggae/dancehall riddims and original hip-hop beats. The release covers different themes, from deep social issues to feel good music. Themes are mainly drawn from the pairs experiences, making it a very personal project.
RAIZA
Raiza has been making music since 2005, having released a string of independent mixtapes including the underground hit 'AMMO Invasion Vol 2'. He raised the bar, in 2010, with the release of his first official single 'Mirror' which was play listed on various commercial radio stations, with the video getting regular rotation on the major music channels across New Zealand.
He continued to further his brand of personal and often uplifting music by releasing a viral YouTube tribute song titled 'State of Emergency' for the victims of the 22 February 2011 earthquake in Christchurch. Since then Raiza has been growing from strength to strength and has recently embarked on a SoundCloud campaign, releasing a string of stand alone promotional singles to top reviews and blog coverage.
MAX
Max, formerly know as Amazin, is one quarter of the Shottaz, a crew which has been going strong since the release of their debut EP 'Game Plan: The Inauguration EP' in 2007. The Shottaz gained the attention of New Zealand's top dancehall/reggae production outfit High Stakes Records, which led to the release of the acclaimed single 'Pon di Way' in 2008.
In 2009, the crew released their second EP 'The Premiere' which was produced by High Stakes Records, and DJ Grafta from the Force Productions label, originally from Auckland, now Canada based. In 2012, Max and fellow crew member Hlats have been releasing promotional singles regularly through Reverbnation and SoundCloud.
LINK UP
Max and Raiza first linked up musically in 2009 when Raiza began to feature on Shottaz' tunes, most notably 'Fly Away' which was later included on one of the crew's mixtapes. Raiza and the Shottaz would subsequently link up at various gigs, where they would invite each other on stage to perform their collaborated songs.
Whilst looking to release a new mixtape, Raiza decided to record the project at S.O.A studio where he enlisted Max to record and mix the entire project. After a few studio sessions, Max voiced the chorus for 'Said and Done', which was originally meant for Raiza's mixtape. This resonated with both artists and the 'Caged Lion' project was born.
The duo have performed songs from the project, on several occasions, to garner awareness for the release. All support in the form of features, airplay and reviews will be much appreciated.
More info:
Caged Lion website 
Caged Lion Facebook
Caged Lion Twitter
Caged Lion YouTube
Raiza & Max on Reverbnation