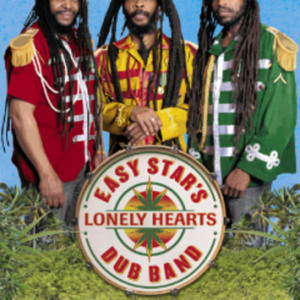 Sgt. Pepper's Lonely Hearts Club Band has been described as The Beatles' magnum opus and was ranked the greatest album of all time by Rolling Stone in 2003. Surely these are a few facts for consideration before any musician attempts to cover any of Sgt. Pepper's classic rock/pop tunes. So what are the odds of a musical reggae-dub collective doing this and doing it well? I've heard too many lackluster rub-a-dub karaoke 'versions' of reggae classics and Beatles classics too for that matter.
Ok, so I pick up the Easy Star All Star's album, which they have cleverly named Easy Star's Lonely Heart's Dub Band (so the title is a mouthful and is not as simple as the band's previous album title, Radiodread but it works). The CD envelope (as is the CD) is colourful, and bright. There's signs of dreadlocks, red, gold, and green and yes that's 'herb' and palm trees on closer inspection – hmmm, sorry kids, this may be for adults only I think. Oh, and the Beatles military-style outfits comes through 'loud and clear'. There's no mistaking the offering inside has something to do with Reggae and the Beatles. I just hate it when an album cover misrepresents the musical offering on hand, that can be such a let down.
I was pleasantly impressed to hear tight rub-a-dub reggae beats and Beatles' classic riffs and lyrics on the first song Sgt. Pepper's Lonely Heart's Club Band. Junior Jazz works his vocals with magic on this track and I really dig the deejay stylings added by Menny Moore. With horns blazing and dub effects added, my attention is captured immediately. I tell myself that if the rest of the album is as good as the first 60 seconds then I'm in for a massive musical feast.
Track two, With A Little Help From My Friends, blends nicely with the first track and Luciano keeps me wanting more, he's like the Luther Vandross of Reggae! Frankie Paul keeps the third song, Lucy In The Sky With Diamonds, simple and with his strange nasal, throaty style brings a somewhat youthful and romantic spin to this Beatles'controversial song.
Three songs into the album and I'm convinced this isn't a cheap karaoke rub-a-dub let down. The concept of reggaefied Beatles' songs is working well for me so far. I was hearing some of the best reggae artists reinventing classic Beatles' songs – for the first time I was thinking this is a winner.
The mixing by producer/guitarist Michael Goldwasser and the very talented Victor Axelrod (piano) and Victor Rice (bass) is seamless and outstanding. They bring both the Beatles songs and Reggae/Dub into the new millennium – I'm already thinking 8.5 out of 10 for mixing (and
musicianship) by the first three songs!
However, things change for me when track four, Getting Better sung by The Mighty Diamonds begins. It's sung in that awesome Jamaican small group harmony style but because I'm unfamiliar with the song I struggled to connect to it. The same happens for me with track five, Fixing A Hole sung by Max Romeo – again another hot vocalist (and nice extended dub mix to this song). The musical talent of both the vocalists and musicians is outstanding but because I'm unfamiliar with how these Beatles' songs sound it was hard for me to enjoy the songs at first. This happened several times while listening to rest of the album except when I heard When I'm Sixty Four featuring Sugar Minott (again I love the extended dub mix added to this song, I wish there were more dub extensions on more of the songs).
I finish my first listening of this album and am left feeling somewhat 'uneasy' and thinking I've missed something, so I play it again. This time going straight to the track that appealed the most to me, track six, featuring Kirsty Rock called She's Leaving Home. Appealing most to me about this song was Kirsty's beautiful honest vocals – she could easily pass as a young Doreen Schaefer or Sharon Jones (I only wish there were more female vocalists on this album). And as an avid ska fan for over 20 years I found the reinventing of this song in a ska style very rewarding even though I couldn't remember how the original Beatles' cut sounded.
I decided to let my preconceptions and expectations about hearing versions of 'Beatles' songs drift away and listened again, this time for a Reggae and Dub experience. This improved my listening experience 100%. Even after listening to the album over 15 times (and growing!) it kept getting better and better.
This is one 'concept album' that grows on you the more you listen to it. I found I was hearing different things during each listening, and no that wasn't because I was smoking herb or taking psychedelic drugs (ha!) it was because the quality of production and musicianship along with the diverse and rich vocal offering was captivating and soothing. With splashes of Dancehall, Ska, DeeJaying, Dub and plenty of Reggae I discovered this album is a modern masterpiece.
Sure the Easy Star All Star's previous highly acclaimed interpretations of Radiohead (Radiodread) and Pink Floyd (Dub Side of the Moon) captured my attention but Easy Star's Lonely Heart's Dub Band has made its way to my heart. I am glad the Easy Star All Stars attempted to reinvent and pay tribute to the Beatles' music. As a radio show host I will be spinning this album for sure. Without a doubt the Easy Star All Stars have improved ten-fold since their previous albums. This is their Magnum Opus.
Nate Taiapa
GO FEET! Radio
Related posts: