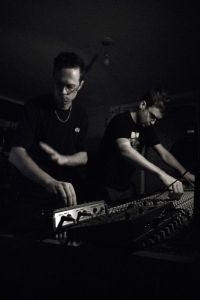 NiceUp talks to Bristol-based selector and promoter, DJ Stryda, about his longstanding Sufferah's Choice radio show, his works with Dubkasm and Teachings in Dub and his thoughts on the state of roots reggae soundsystem culture in the UK.
First up, can you please introduce yourself to the New Zealand massive? 
Greetings, I'm DJ Stryda from Bristol in the UK.  Good to be talking with the New Zeland ites.
You're renowned for your Sufferah's Choice radio show on Passion FM which you've been running for over ten years now – a pretty big achievement!  How have you seen the show evolve during this time?  Do you feel the show has been an integral part of your reggae promotion over the years and if so, in what way?
I started my radio show in 1996 in Bristol when I was 18 years old.  Things kicked off on a pirate radio station called Ragga fM.  We transmitted from high-rise flats, disused basements, derelict shops, and many other places.  Sometimes I'd arrive to present my show only to find that the station had moved!  
The main change that's happened since the Sufferah's Choice show began has to be Passion Radio going online. The show had already been transmitting in Bristol for ten years so people within roots communities around the globe had got wind of it. The fact that they could now tune in live rather than having to rely on old recordings was a joy for both the listener and myself.  
Within Bristol the show has certainly been a great aid to the various reggae promotions I've been involved in.  One example is the monthly vinyl stall I ran for five years at Genesis Musik.  The show served as the perfect shop window for customers to listen to the latest releases and then come and buy the records they liked at the shop.
You're also well known through Dubkasm – a production duo you formed with long-time collaborator, Digistep, and Teachings In Dub – a promotional organisation.  Can you tell us a bit more about these two projects and how they are evolving?
Digistep and I formed Dubkasm in the 90′s.  We produce and release our own roots/dub reggae music. After a debut release in 1996 on compilation album Dub Out West Vol 2 we spent time getting dubplates of our music to soundystems such as Jah Shaka, Aba Shanti-I, and Iration Steppas.  In 2003 we launched our own Sufferah's Choice Recordings label and have since put out a series of vinyl discs.  Digistep moved to Brazil in 2004, this move influenced the Dubkasm sound which is reflected in our debut LP Transform I released in 2009.
 
I have promoted reggae soundsystem events in Bristol since the 1990s but Teachings in Dub started much later in 2007.  A friend of mine, DJ Pinch, was looking for a new venue for his dubstep night, Subloaded, and a group of students from the Bristol University wanted to get involved in helping promote soundsystem events in the city. 
Teaming up we held Subloaded and Teachings in Dub at the Clockwork Club in Bristol.  It was great to see the mainly younger dubstep crowd coming downstairs into our Teachings arena to check out powerful reggae sounds such as Aba Shanti-I and Iration Steppas often for the first time. 
After a series of extremely successful nights Clockwork unfortunately closed.  Due to this we separated from Subloaded and took Teachings in Dub to the Trinity Centre where it remains to this day.  The crowd followed us to Trinity and Teachings in Dub has become the most popular soundsystem event in the Southwest of England.  I think it's a good example of how an older music can gain exposure through a newer genre.
So as you mentioned, Dubkasm recently released an album – Transform I.  What is the focus of this album and how is it being received?
The making of Transform I has been quite a journey.  Digistep's move to Brazil meant that Dubkasm became a transatlantic operation.  Digi continued to record music in his tropical home in Bahia while I recorded various reggae singers here in the UK.  Lots of time was spent chatting on Skype, and to make the album possible many files were uploaded and sent via the net. 
I visited Brazil three times where we performed as Dubkasm and recorded some excellent Brazilian vocalists and musicians in Rio.  So when listening to our album we hope people get to experience some of this journey and enjoy the elements from both the UK and Brazil. 
Digistep moved back to the UK in time for the launch of Transform I in 2009.  This move and the fantastic response that the album received has resulted in Dubkasm visiting many countries to perform shows with guest artists; Dub Judah, Afrikan Simba, and Solo Banton.
Bristol has a great reputation for being a pioneering place for music.  How do you think the scene in Bristol has progressed and what state is it in now?  What are the people there currently feeling?  
I am born and bred in Bristol.  As a teenager growing up in the city during the 90s it would have been hard not to notice the impact the city was having on the world musically.  Massive Attack has just released Blue Lines and even my cousins who lived in London thought it was cool that I was from Bristol! 
This success continued for years with the likes of Tricky, Smith & Mighty and Roni Size.  It did take a real dip for a few years and I wondered if it would peak again and then along came dubstep!  Bristol has become known as the second home for dubstep and the various producers working here have really helped the city continue to be recognised as the important musical hub it is. 
And what about the UK scene as a whole?  In your opinion, is the roots reggae soundsystem scene still going strong?
It's certainly still strong as events such as the 'University of Dub' in London, 'Sub Dub' in Leeds, and 'Teachings in Dub' in Bristol all prove.  It is, however, a continual stuggle.  A lot of the older heads don't come out regularly anymore due to family commitments and so on.  To keep a scene/music alive it must be handed on the next generation.  This is what we've done with Teachings in Dub.  Lot's of the crowd were introduced to reggae via dubstep when we had the Subloaded room upstairs.  Some of the new crowd are now reggae soundsystem coverts. 
As a promoter it's important to get the music listened to by students and the younger folk in general.  It's then the soundsystem's job to school the audience on the culture and faith that reggae music carries.
You've been to Australia before – when did you visit and did you put on any shows while you were there?  What were your impressions of the country?
I spent nine months in Australia in 2001.  I didn't promote any shows but I was booked to DJ in many cities.  I also enjoyed taking the Sufferah's Choice Show to radio stations in Adelaide, Melbourne, Sydney, Brisbane and even Byron Bay! 
I linked up with Milton Naphtali who had recently emigrated there from Gloucester (very near Bristol).  Milton had run the soundsystem Jah Trinity in the UK for years and it was great fun to meet up with him on the other side of the globe and help spread the music.  We did some great shows and works with DJ Jesse I from Chant Down Sound in Melbourne. 
I found that the audience responded more to Jamaican reggae artists such as Luciano and Sizzla for example so it was interesting introducing our King David Style of UK dub to them.  With the right selecting skills this worked but only after some classics from Burning Spear, Culture, and other greats were dropped first in the dance. 
I really enjoyed my experience there and hope that I made some inroad for UK Dub.  Most people who interviewed me for local magazines or radio shows all said the same thing though; 'If you're a reggae man you should go to New Zealand!'
Do you know much about New Zealand then?
Isn't it full of hobbits?  Only joking…I have always heard positive things about New Zealand, obvious things such as the natural beauty there but also about the reggae scene.  I've heard there are even festivals on the beach!  I know Bob Marley visited the country many years ago and that since then a Twelve Tribes of Israel rasta community has developed. 
It's good to know that reggae and it's message continues to flourish on the other side of the globe.  My girlfriend is heading to New Zealand this week so I'll be updated on the vibes there very soon!
So what has DJ Stryda/Dubkasm/Teachings In Dub got planned for the next half of 2010?  
Well as Dubkasm, we've just released the remix album to Transform I which consists of eleven bass scientists from the Bristol dubstep scene reinventing our album.  A series of 12″ plates featuring these remixes are to be released on our label throughout the summer and of course we will be continuing to release our own roots reggae material too. 
Various shows are lined up in France, Sweden, Croatia and of course we are looking forward to playing at Glastonbury Festival again this year.  
The Sufferah's Choice Show is into its 14th year and will continue to transmit each week.  Many guests are scheduled to pass through the studio this year so it's well worth keeping in tune.  
The next Teachings in Dub event is in October and features the heavyweights of the soundsystem world; Aba Shanti-I and Iration Steppas plus surprise guests!  
Any last words for the massive?  
Keep supporting reggae music as it needs you.  Remember to treat your brother and sister as you wish to be treated yourself and things will run sweeter.  Blessed love.

More info:
www.dubkasm.com
www.passionradiobristol.com – Sufferah's Choice Live, Mondays 7-9pm GMT
www.talawa.fr – Sufferah's Choice 'listen again' 

Video:
'The Dubkasm Story' (12 minute film made by the makers of Musically Mad)
'Transform I – Trailer' (6 minute film made in Brazil)
'Transform I album launch party – Teachings in Dub' (8 minute film)
'Dubkasm acetate and Digistep live on Aba Shanti-I Soundsystem at Notting Hill Carnival
'Jah Shaka plays Dubkasm test press at Teachings in Dub'
Venus Hi Fi
Related posts: