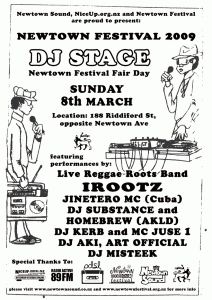 Sunday 12pm 8 Mar 2009 – 6pm
IRootz, Substance & Homebrew (AKLD), Jinetero MC & more!
Where: Opposite Newtown Ave, Riddiford Street
Price: Free!
NEWTOWN SOUND, NICEUP.ORG.NZ, and the NEWTOWN FESTIVAL are proud to bring you:
the NEWTOWN FESTIVAL DJ STAGE
Newtown Festival Fair Day 2009, Sunday 8 March
Situated opposite Newtown Ave on Riddiford St, the DJ Stage returns to the Newtown Festival Fair Day 2009 on Sunday 8th March.
The Stage this year includes more top musical performances from some of the country's best DJs, musicians, and vocalists. With a strong emphasis on cultural and ethnic diversity, performers reflecting many of Newtown's different cultures will represent with music and performers from Cuba, Zimbabwe, Jamaica, USA, and from Newtown itself.
This year the DJ stage also features a showcase of dance performances organised by Wellington City Council's Youth Communities.
Performers include: 
DJ AKI
DJ ART OFFICIAL (NEWTOWN SOUND)
DJ MISTEEK (YARDWISE)
DJ SUBSTANCE (URBANOLOGY) and HOMEBREW (AKLD)
DJ KERB and MC JUSE 1
JINETERO MC (CUBA)
I ROOTZ (LIVE REGGAE ROOTS BAND)
More info:
www.newtownfestival.org.nz
www.newtownsound.co.nz
Special thanks to:
PDSL, RADIO ACTIVE, Newtown Festival and NiceUp.Org.Nz!