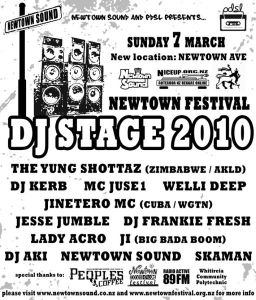 When: Sunday 7 March 2010 10:30am
Where: Newtown Ave/Riddiford St corner
At a new site on Newtown Ave (off Riddiford St), the DJ Stage returns to the Newtown Festival Fair Day 2010 on Sunday 7th March.
The Stage this year includes more top musical performances from some of the country's best DJs, musicians, and vocalists. With a strong emphasis on cultural and ethnic diversity, the performers at this stage reflect many of Newtown's different cultures.
Back for the 5th year the DJ stage has represented music and performers from Cuba, Zimbabwe, Jamaica, USA, and of course from Newtown itself.
This year performers include:
THE YUNG SHOTTAZ (ZIMBABWE / AKLD)
DJ KERB
MC JUSE1
WELLI DEEP
JINETERO MC (CUBA / WGTN)
JI (BIG BADA BOOM)
JESSE JUMBLE
LADY ACRO and HAWK i (NICEUP CREW reggae showcase)
DJ FRANKIE FRESH
DJ AKI
NEWTOWN SOUND
Special thanks to:
PDSL
NICEUP.ORG.NZ
PEOPLES COFFEE
RADIO ACTIVE
CUBA FRUIT MART
For more info:
www.newtownfestival.org.nz
www.newtownsound.co.nz