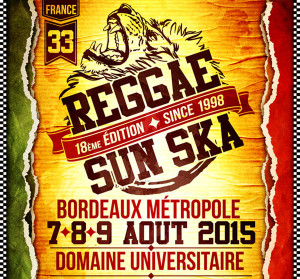 In just a few short days, The Groove Thief is headed to Bordeaux, France, to represent NiceUp at the 18th annual Reggae Sun Ska Festival. Held August 7, 8, and 9 at the University Campus of Bordeaux, for one weekend reggae will be stealing the limelight from the region's famed wines!
The extensive international lineup for the three-day fest includes headliners Alpha Blondy, Jimmy Cliff, and Stephen Marley, as well as plenty of well-regarded acts like Soom T, Asian Dub Foundation, Jahtari feat. Speng Bond, Dubmatix All Stars, Groundation, Lee Scratch Perry & Mad Professor, and Jah Shaka.
French acts include Panda Dub, Biga*Ranx, Krak In Dub, and L'Entourloop, plus O.B.F. featuring Shanti D, Charlie P, and Troy Berkley meet Legal Shot featuring Shinehead, Mr Williamz, and Al Campbell in what will surely be an epic soundsystem session. Don't worry, New Zealand is solidly represented by Katchafire!
The brand-new NiceUp stickers will make their debut appearance at the Reggae Sun Ska Festival as well. Look for artist interviews to appear on NiceUp starting in late August.
More info:
Reggae Sun Ska website

The Groove Thief
.the future of dub is the present.
Featured in the South China Morning Post: "
Tastemaker
"