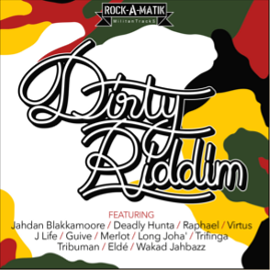 The Rock-a-matik family hail from Annecy, France. The core crew is comprised of producer, Yannis RockRadioHermes, promoter and founder of Reggaematik Sounds, Guedz Reggaematik, and DJ/graphic and clothing designer, Wince Hostage.
Production-wise, they draw from the vintage Jamaican riddim traditions to produce original riddims, while remaining open to modern influences and styles.
This release, their debut, is a great example of their musical direction. The arrangement is a smooth blend of 80s digital reggae feel, augmented with organic live elements, and pushed along with a percussive roots skank. The riddim features a variety of international reggae artists, each bringing individual flair to the track.
Here is a quick rundown of the artists and tracks: UK toaster Deadly Hunta drops a street smart anthem with 'Hustla'; Barbadian singer J-Life steps in with 'Justice'; Swiss toaster/singjay Long Joha brings a taster from his upcoming LP with 'Confusion'; French singer Merlot, previously with french reggae band, Baobab, offers his unique style with 'La fille d'Annecy'; Italy represents in the form of 'My Way' courtesy of Raphael; the U.S. weighs in with 'Know the Ledge' from Noble Society's versatile Jahdan Blakkamoore; France's Tribuman  proudly declares 'Reggae di best'; veteran swiss vocalist Trifinga comes with 'Ma Voie'; Italian born Virtus brings 'Who Dem Are'; long time French reggae singer Elde presents 'Rock It'; Caribbean born Wakad Jahbazz has a singjay styled cut called 'Reflexe'; and one of France's rising reggae stars Guive rounds out the list with 'Silent Calling'. An impressive international line-up!
France has been producing heavyweight reggae and dancehall for a few decades with artists like Raggasonic, Big Red, and the rap-infused Sian Supa Crew. With Rock-a-matik, this lineage continues superbly. This riddim is solid and is a sterling example of modern French reggae, and the emerging sound of international reggae.
This riddim would fit into any modern roots reggae set, and definitely lives up to the labels motto, 'This sound is tuff, release it!'
More info:
Dirty Riddim on Rock-a-matik website
Rock-a-matik Facebook
Dirty Riddim Megamix on SoundCloud
Winston Spliff