So Lost – Gappy Ranks
Fari Riddim (Peckings 10″)
This is more goodness coming out of the Peckings camp. The Pecking's brothers, Chris and Duke, have built a solid reputation for their relicks of Treasure Isle and Studio One classics, combined with fresh vocals by a mixture of established and up and coming vocal talent. Think Bitty Mclean's classic album 'On Bond Street' or Gappy Ranks' huge 'Put the Stereo On'. They have now branched out a little with their first 10″ releases, all three of which have a distinctly roots flava.
The Fari riddim is a rework of Rod Taylors's 'No One Can Tell I About Jah Jah', a Prince Far I production from 1979. This rework stays true to the original, and is a slow heavy thunderous riddim that Gappy rides to perfection.
The riddim features six cuts and you also get excellent versions by Nerious Joseph, Macka B, Mikey Spice, Prince Malachi and Ranking Joe. The two excellent dubs mixed by Dilly from Stingray Records are also available on another 10″ which also feature some excellent versions of Joe White's 'Kenyatta'.
So Lost 
Fari Riddim Mix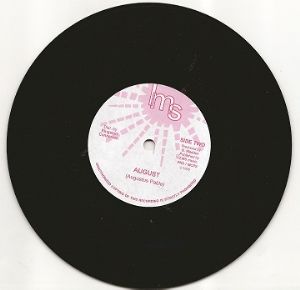 Max Edwards – Inner City Blues
(IMS / Kingston Connexion 7″)
Kingston Connexion are behind a limited reissue (200 copies) of Max Edwards 'Inner City Blues'. Kingston Connexion out of France continue with their excellent re-issues of deep heavy roots, all reissued with care and attention to clean high quality pressings.
'Inner City Blues' is a rework of Nat Adderly's jazz piece 'Work Song', and is also released on the Soul Fire label as Marcus Reid, 'Poor Man Cry'. Production on the Soul Fire release credits the legendary trumpeter Dave Madden, however the version is definitely all Augustus Pablo, who I don't need to go into any further.
Max Edwards was the drummer from Soul Syndicate. His wicked and up-full vocal over the rididm is one I doubt I will tire of, the opening line gets me every time, 'I'm on my way, to a better day', it's one of my favourites tunes to get my day going. Augustus Pablo delivers more of his unique, dark and heavy vibes on the version. All in all it's pure killer.
Conviction Roots