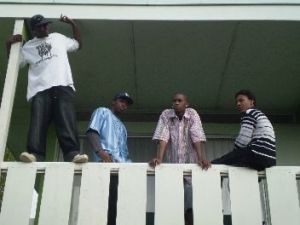 For the past year, Auckland-based, Yung Shottaz crew have been bringing their own blend of Zimbabwaen-influenced dancehall and hip-hop to the NZ massive.  NiceUp talks to the Yung Shottaz about how they formed, what they're currently working on and their plans for 2009.
Can you give us a bit of background info about the crew? When did you form?  Where are you all from?  What brought you all together?
The Shottaz crew consists of Ashford 'Swiss Dubbz' Magaiza(21), Kudzai 'Hlats' Hlatywayo(24), Batsirai 'Da Bem' Machakaire (21) and Max 'Amazin' Muvezwa (21).  All of the crew are from Zimbabwe and we met in New Zealand at a few Zimbabwean social gatherings and soon found out that we had a lot in common i.e. sports, drinking (love of the green bottle) and of course a passion for music (especially dancehall). So we formed in early 2007.
Initially the crew had an additional member, Amin Payne (producer), who has since moved on to pursue his music projects individually. We released our debut EP in July 2007 entitled Game Plan, which did okay considering the limited promo that was done for that project.
The Shottaz started working together because we felt that we could contribute to the dancehall scene locally and internationally. The Zim dancehall scene is quite competitive at the moment with artists in Europe and back home dropping mad tunes on a regular basis, so we felt inclined to add another element to that scene as well.
How would you describe the Shottaz style?
Versatile. A mix of dancehall and hip-hop, with a Zimbabwean twist! The crew is composed of two dancehall MCs, one rapper and one vocalist. We all have completely different styles, yet they blend very well when put together. We do tunes in English and Shona (our native tongue).
What projects/gigs have you been working on this year?
We've done some work with High Stakes Records, DJ Grafta and Regulus (UK dancehall producer). We're currently putting finishing touches on our second EP, The Premiere (a working title), due to drop early next year.
We've also done some work with Amin Payne and Racine on their upcoming mixtape.
In terms of gigs, we've been performing as much as we can from Auckland to Hamilton, Palmerston North to Wellington. At the moment, we've got no gigs lined-up as right now all our efforts are focused on the EP. We'll let the NiceUp crew know what's up when we do have more shows lined up!
Who are your musical influences?
In terms of dancehall, there's too many to list, lol, but some of our more significant influences include; 'King' Yellow Man, Shabba Ranks, Buju Banton, Assassin, Busy Signal, Sizzla, Capleton, Bounty Killa, Mad 'Snake' Cobra, TOK, Morgan Heritage, Lukie D, Luciano, Jah Cure, General Degree, Daville, Major E (Zim), Fortune Muparutsa (Zim) and a whole lot more.
Hip-hop influences include; Nas, Kardinal Offishall, Jay-Z, DMX, Notorious B.I.G, Fabolous, Tupac, Big L, Mos Def, Talib Kweli, Common, The Roots, Bone Thugs n' Harmony, Little Brother, to name a few…
And what future projects have you got coming up?
We're planning to do a NZ-wide tour promoting the EP and after that we intend to start working on a full length LP.
Any words for NZ reggae massive?
Nuff respect to everyone who has been supporting us by turning up to gigs and showing mad love! Watch out for some new tunes which are coming soon (oh and not forgetting the EP). 'Yung Shottaz on a roll and we're coming this year, oh yeah!'
RESPECT
More information:
Yung Shottaz MySpace
Venus Hi Fi
Related posts: