A mixture of the old and the new sums up Undercover nicely. His love of reggae spans the entire gamut from 50s Jamaican Shuffle to Ska, Rocksteady, Roots to Dub, Rub a Dub and Digital, to the current crop of Revival Roots Reggae and Dancehall riddims.
Growing up in Auckland, Undercover selected and promoted with his crew, The Sandy Bay Social Club, running sessions at Khuja and Rakinos and jamming with the likes of Gappy Ranks, Million Styles, Junior Reid, Rodney P and Skitz and JStar. Sandy Bay have also held down the Friday Night Takeout radio show on Base FM since the stations first days on air, with Piet still going strong to this day.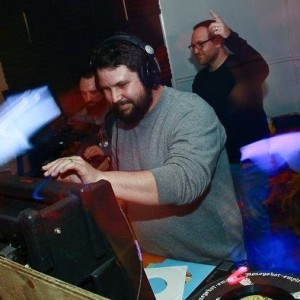 Undercover broadened his sights and lived in Wellington and the Wairarapa for a number of years, connecting with NiceUp and Vital Sounds Hi Fi. Here he truly found his love of the Old School, while holding down regular Reggae, Hip Hop and Funk nights at his favourite bar in the world, Havana Bar.
Back in Auckland again and settled with his family he 'still got game', dusting off the 7″s (as well as buying up on eBay) and selecting with Jafa Mafia Sound, Dubhead and Sandy Bay with the odd gig and ting.
He also continually drops heat for the massive on his blog www.undergroundundercovered.blogspot.co.nz.
More info:
Underground Undercovered
NiceUp SoundCloud
NiceUp MixCloud
Clive Wilson and The Skatalites – One Ska, One Ounce of Weed, One Beer
Prince Buster – Girl, Answer to Your Name
Derrick Morgan – Great Musical Battle
Dizzy and The Soul Syndicate – Riot
Keith Hudson – Don't Get Me Confused
Eric Monty Morris and King Stitt – Tears in your eyes
King Miguel – Town Talk
Raphael Gray – How did you Know
Dennis Alcapone – Rub a Dub Daughter
Glen Adams – Run Come Dance
Keith and Tex – Run To the Rocks
Toots and The Maytals – Hold On
The Silvertones – Burning In My Soul
Cornell Campbell – Jah Jah Me No Born Yah
Lloyd Parks – Ordinary Man
Freddie Mckay – Won't Get Away
Leroy Brown – Color Barrier
Freddie McKay – Rock A Bye Dub
Horace Andy – Don't Let Problems Get You Down/Version
Welton Irie – Black Man Get Up Tan Up Pon Foot/Version
Errol Dunkley – My Baby Is Gone/Version
Cornel Campbell and The Eternals – You're No Good
Johnny Osbourne – Ice Cream Love
Scientist – The Mummy's Shroud
Revolutionaries – Seventy Nine Rock
Prince Jammy – Crucial Dub