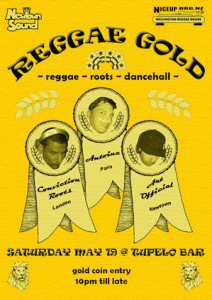 When: Sunday 5pm 20th May 2007 – 11pm
Where: Tupelo – Edward Street, Wellington
Featuring: Conviction Roots, Antoine & Art Official
Price: Gold coin
Come join the NiceUp Family, Saturday 19 May @ Tupelo for REGGAE GOLD – a night of number one champion Reggae, Roots and Dancehall – with NiceUp & Newtown Sound don –ART OFFICIAL – Parisian super-soundboy – ANTOINE – and special guest, direct from London – heavyweight selector – CONVICTION ROOTS. 
Originally from Wellington, CONVICTION ROOTS has spent the last few years inna London-town, returning once more with crates full of classic Roots, Revival and uplifting Reggae! Alongside selector ANTOINE – bringing new Roots and Dancehall from the Caribbean, Africa and France – and ART OFFICIAL – spinning the very best in old and new school Reggae Dancehall – blazing redda red hot!
Come celebrate with the NiceUp Crew – number one champion sounds!