Dubhead
Dubhead arrived in New Zealand from the U.K. with his family in 1969 and grew up in Maraetai Beach, South of Auckland.
He became active as a DJ in 1983 and has played reggae, funk and hip-hop at all manner of events around the country since then, including support slots for touring international artists Renegade Soundwave, Mad Professor, African Head Charge, Ben Harper, Rockers Hi-Fi, Dry & Heavy, Burning Spear and Toots & The Maytals.
He hosts a weekly specialist radio show, The Rhythm Selection, on Auckland's 95bFM which has broadcast continuously since 1990, and is on air every Monday night from 9 – 11pm. It can also be heard worldwide as a live audio stream.
From 2000 to 2003 he was bFM's Programme Director and during this time was responsible for securing airplay for countless local artists, particularly those from New Zealand's reggae and hip-hop underground. Since 2000 he has been responsible for the executive production of eight New Zealand music compilations, including 'Dub Combinations Chapter 3', which won the 2003 bNet New Zealand Music Award for 'Best Compilation'.
He has co-produced his own music under the name of The Sound Foundation, which has been released here and in Australia and Europe on the Deepgrooves, Kog Transmissions and Stereo Deluxe labels. His writing has been previously published in Back 2 Basics, Planet Magazine and The Fix.
He currently works part-time for Auckland Student Movement at AUT as an events assistant, is also in charge of the Reggae department at record retailer Beat Merchants and holds a DJ residency at Shadows Tavern and The Thirsty Dog.
1. Turn It Up! Remix – Submariner Meets Open Souls & Killamanraro Uptown – (From The Crate, 7″)
2. Bushweed Come Around – Ricky, Bunny & Collie Buddz – (Knut Posse, 7″)
3. Funky Bond Street – Jungle Brothers & Ernest Ranglin – (Flex, 7″)
4. Notorious (Diplo Remix ft Sandra Melody) – Turbulence – (Ghetto Arc, 7″)
5. Fade Away 2006 – Million Stylez ft Junior Byles – (KBC Music, 7″)
6. The Traffic Jam – Stephen Marley ft Damian Marley & Buju Banton – (Tuff Gong, 7″)
7. Red Wine To Gaze – Sizzla vs UB40 – (Jiggy RMX, 7″)
8. Wear You To The Ball – The Paragons ft Vegas, Rayvon, U-Roy & Channel Live – (Flex, 7″)
9. Moon Invader – Tommy McCook – (Doctor Bird, 7″)
10. Cay's Crays – Fat Freddy's Drop – (Blood & Fire vs Deep Sounds Remix) (The Drop, 12″)
Cpt Nemo
Cpt Nemo began collecting music from a tender age – his first vinyl LP was the Miami Vice soundtrack, bought when he was about 10. About 10 years ago he shelled out for two brand-new Technics SL1200 turntables, and three mixers and numerous cartridges later, he still has the same decks, but has also has incorporated CD's into his mixing – something he never thought he would do when he started.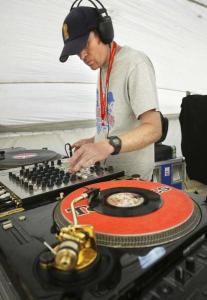 He was inspired to get into DJing and mixing through hip-hop scratch master, Roc Raida at the first ever NZ International Turntablist Federation in '97 – 'I'd been buying vinyl for most of my life – hip-hop, indie rock, soul, funk and a bit of reggae, but seeing this guy tear shit up on the turntables blew my mind. I wanted to learn to cut it up like he did, but I pretty quickly realised that was gonna take years of practice, so I altered my approach to DJing altogether.
I now focus on the quality of the tunes I play and how they relate to one another, rather than how super-flash my mixing, scratching or beat-juggling is…I want to educate listeners with the selection, and the ideal responses for me are having people appreciate what I play and get down to it, or even better, have them come up and ask me what the tune they're digging is'.
He credits Scientist's 'Scientist Wins the World Cup' as the record which really converted him to reggae approximately twelve years ago, but is quick to point out that's not his only flavour – 'There's too much good music in various genres to focus on one flavour and one flavour alone. Don't get me wrong, I love reggae and all its off-shoots, but I also want people to hear a variety when I am selecting'.
Cpt Nemo is now a journalist and music writer at the Hamilton-based regional daily newspaper The Waikato Times and has had extensive interviews with the likes of Lee Scratch Perry, Blood and Fire's Steve Barrow, Cat Coore from Third World, Style Scott of Roots Radics/Dub Syndicate, Wailers bassist Aston 'Family Man' Barrett, Chicago rappers Common, Talib Kweli, Pos D'Nous from De La Soul, Brit-soul diva Alice Russell and even George Benson.
Currently enjoying high-rotate on Cpt Nemo's decks are Madlib, Mista Savona, classic Soul and rare groove, and anything 'touched by the hand of Scientist – he's the dub champion, for mine'.
Dubhead and Cpt Nemo are currently working on a book documenting the history and growth of reggae and its culture in New Zealand. The book is planned for release in early 2008.
The Wellington massive will be lucky enough to catch these two in the Capital on Friday 30 March @ Tupelo, for 'Ride Inna Town', alongside local heavyweights, DJ Lemon and Ras Twig, with Tuffy Culture on mic control duties.
1. Suzy Wong – Nicodemus – (Massive B, 7″)
2. Ting a Ling/Version – Prince Jazzbo – (Studio One, 7″)
3. Sensimillia – Dillinger's Massive Dub Beats – (React, LP)
4. Wall Street – Jackie Mittoo – (Studio One, LP, 12″, 7″)
5. Snake Version – Sizzla – (New York New York, 7″)
6. Black Skin – Sonny Boy Black Skin Washington – (Black Skin The Prophet, 7″)
7. Rasta Lives – Mista Savona/Mona Lisa/Mr Peck – (Mista Savona/Elefant Tracks, CD)
8. Superstar – Ranking Dread – (Black Roots, 7″)
9. Bad Days Dub – Scientist – (Greensleeves, LP)
10. Right Ya So – Powerman – (Soul Jazz, LP)