NiceUp talks to label owners and producers, Gabriel 'Messenjah' Calcott (Reality Chant Productions), and Kris Kemist (Reality Shock Records), about their debut collaboration, the 'You've Been Bad' riddim.
The two discuss their musical journey, working together from opposite sides of the world, and how the new riddim came to be.
Gabe, how did you get into making reggae music? What inspired you to begin?
G: Blessed Love. Well it all began for me with Dubwize Sound System in about 2000. The crew back then was myself and DJ Ruffian, and we started holding plenty of sessions around Christchurch and the South Island. A couple of singers joined the crew not long after, and our shows changed from DJ sets to more live shows which required riddims!
Around the same time I was working at Echo Records in the vinyl department and I met local producer Nava Thomas AKA Confucius. We shared a common love for reggae music, so we discussed doing some production together. Long story short, we hit the studio and recorded our first riddim which we really vybed off!
David Papa Levi recorded the song 'Roots Philosophy' over it, which became a popular tune off our first album 'Dubwize Meets Confucius To The Control Tower', released in 2002. This tune really set the standard for Dubwize and our production, and that's where it all began.
Since I discovered reggae music I have always felt a deep sense of responsibility when it comes to promoting and sharing the music, mostly due to the spiritual, revolutionary, and conscious message that comes with a lot of reggae. And producing my own music was the next natural progression to forward the works even further. What INI would call JAH WORKS.
Tell us a bit about your previous releases.
G: There have been a lot of releases so I will just mention the major ones.
The first Dubwize album came out in 2002, followed up in 2003 with 'Reality Chant'. This lead to Reality Chant Productions being established in 2007 as a label, and in 2008 we released 'Dubwize presents Snypa Levi The Sojourner', which was also the end of the Dubwize story.
I continued the works with Reality Chant and later in 2008 I released the first international riddim release for the label, the 'Country Living' riddim. This featured some of my favourite artists Jah Mason, Luciano, Mikey General, Chrisinti and Ginjah.
Single releases with Natty King and Hi Kee followed. Then in 2010, I released the multi-riddim album 'Kings Highway', which featured more of my favourite artists, including Lutan Fyah and Zareb.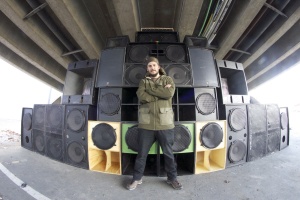 Following on from this, I have released singles with Deadly Hunta from the UK, plus produced a slew of riddims and songs for artists including Louie Culture, Cookie The Herbalist, Yami Bolo, Determine, Utan Green, Baba The Fyah Student, East West Rockers, Hi Kee, and more.
Kris, what has been happening with the Reality Shock family in 2013? Which artists have you been working with this year?
K: A lot has been happening this year! Everyone has been working hard. In June we hosted a big Reality Shock Showcase in London with the whole family performing, around twenty artists with two live bands, which went down very well. Now festival season has been in full swing so there has been lots going on. Solo Banton and Deadly Hunta in particular are working flat out.
I recently began managing Jah Screechy, former Sir Coxsone resident deejay of 'Walk and Skank' fame. Together we've been playing at festivals and working hard in the studio, recording for various sounds and labels.
Release-wise, apart from the 'You've Been Bad' riddim, we have also released debut EPs from two long-time family members, Marga and Chieftain Joseph. All three EPs are on iTunes now and 12″ records are also available.
How would you describe the Reality Shock sound? What production techniques do you use to achieve the sound and how have they evolved over the years?
K: That's a tough question. I'd say live instruments definitely play a big role…the human touch. If anything, over the years I think Reality Shock music has become more varied, exploring other areas of reggae music and bringing new elements in to the equation, but the production techniques are basically still the same. I try to make music with substance, melodic enough to listen to quietly but heavy enough to play on sound system.
Gabe, when did you connect with Kris Kemist? What were your impressions of the Reality Shock label before linking up, and did you feel there were parallels between Reality Shock and Reality Chant?
G: I first linked with Kemist in about 2010 – 2011 I think. I was introduced by Vanita from NiceUp and we got talking straight away about a collaboration.
I heard the first 'Reality Shock Volume One' compilation and had mad respect. I knew the label was serious, especially with such a wicked line-up of artists on the roster.
Naturally I drew comparisons with Reality Chant because of the name but musically and philosophically it also seemed we were on the same vibe and mission. So when the opportunity arose to work on this riddim I jumped at it.
Kris, the 'You've Been Bad' riddim is a re-make of a classic early 80s Errol Dunkley tune, 'You Have Been Bad'. How did you and Gabriel decide on this particular tune and how did the remake come about?
K: Well, I started making an album with Errol Dunkley a few years ago when he was in UK. At the time we were going through some of Errol's old songs on YouTube, some of which he hadn't heard in years and had almost forgotten about. We found 'You Have Been Bad', which was originally Errol's own production, and he suggested remaking it.
That was around the time I first linked Gabriel, who had recently been doing some works with Deadly Hunta. I loved the sound of his productions and it was funny to see the similarities in our work, even down to the name Reality Chant! So we decided to work together and turn 'You've Been Bad' into a collaboration project.
How did artist selection for the riddim take place? Who features on the riddim?
K: Basically we agreed to record five artists each. Of my five I chose two who I had never worked with before, Italian dancehall artist Miss Fritty, and UK roots chanter I-Natural. As well as the regulars Deadly Hunta, Marga, and Chieftain Joseph. In the end I somehow ended up with six!
The full set of artists are on the riddim are Errol Dunkley, Daddy Freddy, Louie Culture, Million Stylez, Norris Man, Deadly Hunta, Cookie the Herbalist, Silva MC, Miss Fritty, Marga, and Chieftain Joseph.
Is this collaboration one of the first times you have both worked with another label and producer and co-released a riddim? What has that process been like? What has it been like working with a label on the other side of the world?
K: It's not the first time we've collaborated with other labels still, but it has been a great pleasure working with Gabriel. He knows what he is doing and we are on the same wavelength, so everything runs smoothly, thanks to Skype and despite an eleven hour time difference! We've both had a lot of other projects going on so we didn't rush this one, but after two years work I think were both happy with the finished product.
G: It has been a real pleasure to work with Kemist, a natural ting! Communicating over the Internet in different times zones is always going to have its challenges, but I have found Kemist to be a hard working, reliable bredda, who at the end of the day is doing the same works as me. So it has been a real pleasure to collaborate on a project like this!
I think each of us brought a unique vibe to the riddim production and artist selection that has really made it a unique and outernational release!
The riddim features a cut called 'We See Dem' from New Zealand vocalist, Silva MC. Gabe, what is your history working with Silva and how did this particular collaboration come about?
G: I first linked with Silva when she came down to Christchurch to sing backing vocals for David Levi and the Dubwize band.
In 2010, funnily enough I had booked the 'Kings Highway' album release tour and Levi pulled out with three days to go. So I was left in a sticky situation with no artists to perform with. Luckily Silva was free and I got her to perform at the album release at Khuja in Auckland. She really saved the day.
Since then Silva has been the main live MC for Reality Chant and we have done numerous festivals and big shows, mainly around the South Island. Late last year we supported Roots Manuva in Christchurch, and after performing 'We See Dem' live to a big response, we decided it was time to hit the studio.
So the day after the show we recorded the tune at my home studio in New Brighton, and I knew instantly it was going to be a big tune for Silva.
How can people hear and get a copy of the 'You've Been Bad' riddim?
K: The full riddim album is available digitally from iTunes, AmazonMP3, Google Play, Spotify, Rhapsody, Emusic, and MediaNet. The 12″ Record featuring selected cuts will be available from www.realityshock.com and all leading reggae record stores.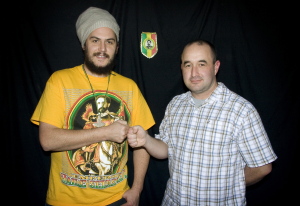 Kris, so far I think Deadly Hunta is one of the only Reality Shock artists to reach Australasian shores. Are there any plans in the pipeline for other people in the crew to tour?
K: Only Deadly Hunta from the local crew but I think Tippa Irie, Macka B, and Earl Sixteen have also performed there in the past. We'd all love to reach there still and hopefully the opportunity will arise soon. NiceUp will of course be the first to know!
Will there be other Reality Shock/Reality Chant collaborations in the future?
G: Yes, there are definitely big plans to keep working together and collaborating as producers and labels! I won't say too much but the next project may involve a solo release from one of our favourite artists, Mr Deadly Hunta!
Any last words for the massive?
K: Just to send a big respect to all our friends and reggae music family down under. Give thanks to the NiceUp family for all your support! One Blessed Love.
G: Yes massive and crew, give thanks to Jah for the support shown to Reality Chant over the years!
Keep an eye out for the various artists 'Fire I Blaze' riddim album about to drop, plus a next project featuring Cornell Campbell, Elijah Prophet, and more.
To leave you with a quote from Haile Selassie I, 'The reward for the job well done is not in the recognition of others, nor in public praise. Neither is it to be measured solely by the monetary return earned by the workman. It comes rather in the inner satisfaction that accompanies the knowledge that the work accomplished represents the best of which we are capable'. Jah Rastafari!
More info:
Reality Chant Facebook
Reality Shock Facebook
Reality Shock website
Venus Hi Fi