There's more to Eddie Murphy than meets the eye, or even the ears come to think of it. Millions around the world know him as the star of films like Trading Places, Beverley Hills Cops, Coming To America or The Nutty Professor, but the comedian has other, more musical ambitions that may surprise a lot of his long-time fans. So what do you get the man who has everything? A hit reggae single would do nicely, and he's made a fair start with two recent efforts – Red Light, shared with Snoop Dogg, and his own solo Oh Jah Jah, which made serious inroads into the iTunes' charts earlier this year.
The first sign of him wanting to reinvent himself in this way happened more than twenty years ago, when Shabba Ranks was taking dancehall international and about to celebrate the first of his two Grammy awards. Shabba made a surprise appearance in Port Antonio, performing on stage with Eddie, who strolled on stage wearing a white Telecaster, with a strap that was made to look like chains. The effect was Black Moses meets Trading Places, but the music itself was beyond question. "Your nation was built on my sweat. Why do you hate I?" they chanted, on a song called I Was A King. It was a lyrical history lesson, telling us of ancient African kings and queens, and the most compelling evidence yet that Eddie Murphy might have the makings of a reggae artist.
There's a common reluctance I think, for us all to accept that anyone could be seriously talented at more than one thing. Do we honestly believe that Miles Davis or Bob Dylan were great painters for example, or that Bruce Willis should have been allowed anywhere near a recording studio? If you listen to Eddie Murphy's first two albums, released in the eighties, you'll hear someone desperately trying to sound like Prince and Michael Jackson, yet lacking the musical genius and originality to match them.
He didn't lack for chutzpah though, or celebrity endorsements. Rick James steered Party All The Time to chart success, whilst Stevie Wonder wrote and produced Everything's Coming Up Roses, which is arguably the funkiest track that Eddie's ever made. Nile Rogers, Larry Blackmon, Randy Jackson and Johnny Gill all featured on his next album So Happy, released in 1989. Put Your Mouth On Me and 'Til The Money's Gone were put out as singles, but neither did too well. Three years later he made a guest appearance in the video for Michael Jackson's Remember The Time, and Jacko then repaid the favour by sharing lead vocals on Whatzupwitu, taken from Eddie's next album Love's Alright. He was signed to Motown by then, although he now claims that it was "Motown only in name.
"It was a different Motown when I got there," he says on the phone from California. "I can't even remember how I wound up there but that Love's Alright album is when I stopped doing other peoples' material and I took my first serious steps towards thinking, 'okay, I'm going to do all of this myself and let the chips fall where they may.' It feels funny listening to music you've made years ago. It's like looking in an old high school year book and thinking, 'what the fuck do I have on right there? What was I thinking of?'
"The good thing about it is that I never stopped nurturing what I had in me. I choose to stay with my music and I have this mantra which is that anything that you do with passion, focus and repetition is going to get better, and especially if you're not under any pressure. I mean I'm at home making music and thinking that no one's going to hear this. This is just for me, I'm just doing my thing and no, they're not all hit records, but at least it's honest. I could easily go and get the ten hottest producers around and go out and make a record about popping bottles in clubs but that's not where I'm at right now. I'm into dropping some lyrics, and there are grown-up themes in my music."
That's true, and we can hear the proof of it on his last two singles, released after a lengthy absence during the past year or so. Both favour a Bob Marley one-drop style of reggae beat and have conscious lyrics. "Gone are the days when everyone used to say 'everything is going to be alright,'" he sings on Red Light, shared with Snoop. Inequality is the main theme, and so it's no wonder the reggae massive sat up and took notice. Oh Jah Jah was another convincing sufferers' lament on which he talks about "police in the street shooting black babies. Run for your lives. The time has come to strengthen our defences. We're leaving Babylon, and going back to Zion…" Tracks like these helped put to rest any lingering doubts about his credibility as an artist and with the promise of an album to come, tentatively entitled 9, the time may have come to take Eddie Murphy seriously for a change.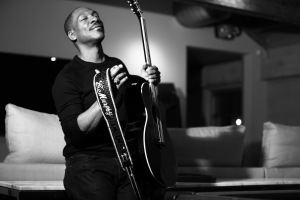 "People keep asking me if I'm making a reggae album but I didn't want to put something out that no one gives a crap about so I decided that I'd wait until I'd built up an audience for my stuff first," he says pragmatically. "With Oh Jah Jah, I thought those lyrics were timely. I just decided to put a reggae track out but I didn't want it to look as if I'm trying to be anything other than I had this cool song, and so let me see what I can do with it. If it was well received in the reggae market and became a hit, then I could put a band together and play some reggae festivals. That would have been a success for me where either of those tracks was concerned. We could maybe play one of those big shows in Jamaica and drive the people crazy! I'd love that."
What was the first reggae that caught your attention?
"Oh, that's easy – the original Wailers with Peter, Bunny and Bob. That's the first reggae I heard in late high school and it all just grew from there. That line-up was the first that really walked me into it and made me fall in love with reggae music and still does. They were the Beatles of reggae music, no question. That's the ceiling of the art form right there."
Whilst his initial venture into reggae was I Was A King, he doesn't really consider that song to have been a reggae track.
"No, I don't think so. Maybe it is, but at the time I was just thinking it was a pop song, albeit one that was very Afro-centric. I remember we went down to Jamaica to film the video and that was great, but it's not like I'm switching over to reggae or anything, because I've always done all different types of music. I have regular songs and country music, jazz and avant-garde… I've got hard rock music and R & B… I can keep the lights on with acting and comedy, but music is as big a part of anything else that I do as an artist. I just stopped putting stuff out that's all, but I'm a creative person, and I have a much bigger canvas to work on when I'm making music. I'm like, 'okay, I'm a writer and I get to go in there and I have three and a half minutes and I need to come up with a great little story with a beginning, a middle and an end, all totaling three minutes and I need to make it interesting. It's fun to go in the studio and do that and to come up with something. I go in the room with nothing and come out hours later with a track, that's such a fun thing to do. For me, that's never stopped being something mystical and when it comes together it feels like there's some whole other shit going on. I love it."
Are you involved all the way through, and sit there whilst the tracks are being mixed?
"Everything! I start off with my guitar and I see it all the way through to the final mix. That way it's my track and I can follow the whole process through from beginning to end, right there in my own studio. I mean I'm always walking round the house with a guitar. I've got calluses on my fingers because that's all I do in my spare time. I'm a huge music fan, and I'm a big music historian. I'm always listening to stuff but I grew up in New York in the seventies listening to all different kinds of music. The radio wasn't like it is now where you hear all the same stuff over and over. In New York back then you heard everything. That's what I grew up with and that's what my musical taste is still. I grew up listening to all different kinds of stuff."
He lists artists like James Brown, Marvin Gaye and Stevie Wonder among his formative influences, although Jimi Hendrix, Bob Marley and even opera singer Andrea Bocelli all get a mention at various times during our conversation.
"I just love to hear great music in any genre, from somebody who is just open and honest and who's really out there doing it," he says. "I love it when you see that special thing when an artist is really feeling what they're doing. You're sitting there thinking, 'just listen to that fucking sound coming out of that human being!' I sat there watching Andrea Bocelli come out with those great, long notes thinking, 'what the fuck?' You can go and see artists from any genre and you can tell when they've tapped all the way into what they're doing. When you see them singing or playing that shit you think, 'yeah, God is real. Just listen to that shit going on. That's the proof right there. It lets you know that the spirit world is real because just look at what that fucker is doing.'"
Eddie admits that recruiting famous collaborators is a little easier when you're one of the biggest movie stars on the planet.
"Yeah, that's right. What's cool about it is that I can call up and ask if these people want to work with me and most of them will say yes. I've been in the studio with some incredible people over the years as well, like Michael Jackson, Paul McCartney, Garth Brooks and B. B King… I ring them and say, 'hey, will you come and do this song?' Or I might meet them at a party and say, 'hey, I have a song I'm working on' and they say, 'sure!' That's how I ended up in the studio with people like Elton John and Julio Iglesias, or Teddy Prendergast and Bon Jovi…"
We can imagine their surprise when they get there, and Eddie straps on his Telecaster. He's played guitar for twenty-five years or more, and piano for even longer than that. He's an experienced musician, and keen to let people know it.
"Yes, because when you hear my music, I'm not just singing over tracks. I write my music and I produce my tracks and I'm playing on them. I don't want to sound pretentious, but it's more than a hobby for me. If you look at Saturday Night Live, or my stand-up act and my movies I'm always singing. Usually I'm playing around when I'm doing it but I've always been involved with music in some way. I started doing stand-up when I was fifteen but I was playing in bands during high school, y'know? Music was always there and then I got known for being funny and for acting, but I never stopped doing the other stuff. If you see me in a movie, that's not me. That's a character in a movie; it's my comic persona, but when I'm writing a song that's different. It reflects my point of view and what I feel, how I'm thinking. My sense of humour, that's not me. Like I say, it's my comic persona. It's not who I am. That's me in-between all the melodies and the notes, and that's as close as you can get to the real Eddie Murphy."

John Masouri
Author of Steppin' Razor – The Life Of Peter Tosh (Omnibus Press)