"I feel that now the time is ripe for Vital Sound. I feel there is no better time for music with a message that speaks to the reclaiming of power by people across the planet. We are in desperate need of change and time is running out."
Monkey Marc, known for his unique fusion of reggae and hip-hop sonics, his solar-powered sound system, and his keen sociopolitical awareness, has unveiled his slow-burning masterwork Vital Sound. As forward thinking as ever, Monkey still makes sure to re-approach aspects of his past.
He graciously breaks down much of the album, discusses the impacts of the current creative landscape, and even shares an exclusive scoop for the true readers.
TGT: Hope all is well Monkey, always a pleasure to connect over meaningful music! We last spoke in 2018, for Global Reggae Charts Magazine. What's changed in the last two years, and how have the political and societal realities impacted your artistic output, including that powerful video update to "No Surrender"?
Monkey Marc: A lot has changed since 2018. Where do I start?
2020 feels like a whole era in itself. Politically speaking, I feel a lot of countries have gone backwards in the last few years. There's been a rise in populist right-wing governments, with climate change and COVID deniers in charge, and with Trump and his madmen pushing the US into a dark age, and in the UK with Boris Johnson and the whole Brexit madness. Even here in Australia, we have a head of state who is a climate change denier and is famous for taking a lump of coal into parliament.
At the same time though there's been mass social justice movements and a real rise in people power on the streets. The overt police violence against black people in the US has made way for a powerful Black Lives Matter movement which has inspired a lot of Americans and people around the world. It's a time of potent grassroots activism where communities are starting to work together again. So there is hope.
It was great to work with filmmaker James Gillot to make the 2020 update to "No Surrender," which highlights some of the amazing Black Lives Matter movements around the world. I feel like the track hits different in 2020 and the new visuals give the track a deeper meaning.
My artistic output if anything has been amplified. For me, a political state of unrest is fuel for the fire and makes me more driven than ever. Especially now in 2020. I feel my drive has been turned up to 11. Let's just say I've been busy.
TGT: Vital Sound is loaded up with bangers, there's no other way to describe it! Several of these tracks have been released as part of the build-up to the LP. What are your thoughts on the making of a modern album and the flexibility that allows for as far as output?
Monkey Marc: Thanks for the kind words. It's been a long time in the making.
Making an album these days needs to take into account the modern listener. We live in a single-driven music landscape and some would say albums aren't as relevant as in the past. But I feel they're still very important and have a unique ability to encapsulate a moment in time.
That's one of the things that I try to do with all of my albums, to capture a unique energy and focus.
"A lot of music released these days feels disposable, more as part of a production line to feed playlists instead of developing an artist's story. I feel very lucky to have the ability to create long term projects like this one, spanning multiple years."
The whole process for Vital Sound was fairly organic. I was thrilled and pretty surprised, to be honest, at the amazing response we had for "No Surrender," as the first single from the project. It gave me momentum to keep developing the project through the release of more singles and EPs like Yaad N Abraad, "Badness," and "Willy Lynch."
The good part of it is that there's a lot of flexibility these days in releasing music, especially if you are independent like me.
My background was more as an electronic music and hip-hop producer, and this project was in some ways a new direction for me. So releasing music over time also allowed me to build up an audience and bring them along on this ride with me.
Even though Australia is far from traditional reggae markets, worldwide music platforms and the power of digital marketing and the like can open up a more global audience for us.
It has been really rewarding developing the project organically and having people in our orbit who have supported it for many years finally see it come to fruition, from my Australian crew to DJs like Mixmaster J in the UK, to writers and selectors like yourself.
It can be liberating in many ways that I have the freedom to release music whenever I want and don't have to fit into a label's schedule. However, it's also a tricky one as I am totally self-funded, which slows things down as releases cost money. So it did take a long time for the album to finally come together. But all good things take time.
TGT: Related, "No Surrender," "Yaad N Abraad," "Willy Lynch," "Badness," and "King Street" are all tested dance-floor heat. How did they affect the creative process that led to tracks such as "Amun Ra," "Mash Down Rome," and the lead single "Rebel Code"?
Monkey Marc: With most of my tracks, I often test them out on the dancefloor before I commit to the final version that I end up using on an album. I've always felt it's the best way to get a sense of how people react to them and move to them. I think deep down I have always had that sound system mentality in me and if they don't rock it on the bass bins then I usually go back and tweak the song until it does.
"Rebel Code" was the song that took the longest to finish as we had 3 singers on it: Turbulence, Blvk H3ro, and Yeza. It went through a few different versions, right up to the last day before I mastered the album and sent it off to our distributor.
In the process of the album coming together, I often find myself re-writing songs in the final round of production. I try to remove myself and my preconceptions about what a song is and put myself in the audience's shoes and try to imagine whether the song will work for the listener.
So a couple of songs on the album ended up with pretty major changes in the last few days before sending it out. I find that the true form of the song often emerges in this final step where I can add that special flair.
The process of pulling an album together can be quite mysterious though, and you never quite know what you've got until it's finished.
"Mash Down Rome" was just one of those heavy hitters that I have had bubbling for a while and had worked on with Speng Bond quite a while back. I wasn't sure if it was going to be on the album until I dropped it at a show I did in Bangkok where the crowd went crazy for it. So I thought I'd better put it on the album…
"Amun Ra" is one of those tracks with some real lyrical mastery. Fyah Roiall and Jah Izrehl are pure magic together. It's such a potent and powerful track. A real slow grinder that represents some of the fresh and exciting talents and sounds of Jamaica.
I'm always excited to support that. I'm not one for simply sticking to a formula or living in the past. I'm ready to push forward and give new artists and their sound a platform for expression.
TGT: Fyah Roiall is the most central artist here, contributing to three tracks. What has it been like working with him specifically, as well as the other rising Jamaican stars you've savvily collaborated with, like Aza Lineage?
Monkey Marc: Fyah Roiall is an anomaly in Jamaica. He's very much a part of a new era. He's not reggae and he's not dancehall. He comes from more of a hip-hop headspace, so we really gelled well together.
We started collaborating on a track or two, then I invited him to tour with me last year on the pre-release tour for Vital Sound across Australia. We took him on tour to remote Aboriginal communities in the central Australian desert. We brought along a sound system in the back of the ute and I ended up driving about 2800kms straight through the centre of Australia.
The indigenous kids were just enthralled by Roiall and loved every second of seeing him perform. There were little girls screaming and boys wanting autographs.
That was Roiall's introduction to Australia. Straight into the heart of the country. I have a long history with that area with many indigenous communities in remote Australia, so it felt like an honour to share with them such talent straight from Jamaica.
Aza Lineage is a true gem as well. I think it was my fellow Australian artist Mista Savona who put us onto her. We have a great relationship with her and the whole Lineage crew. We were going to be working with another one of her crew members, France Nooks, but unfortunately he was killed in a dispute over a taxi fare the day before he was going into the studio to record for me. Very sad indeed.
Aza Lineage now has an upcoming album slated for release in 2021, so keep an eye out for it.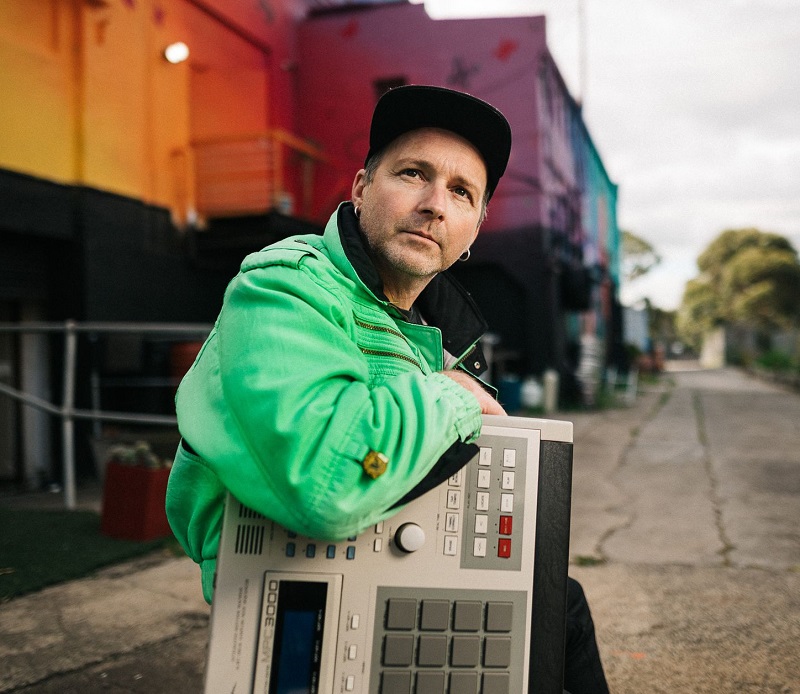 TGT: The Prince Alla introduction is particularly poignant, a nod to another era. How did that collaboration come together, and why do you think the Rome motif remains so relevant within Jamaican music? Speng Bond definitely brings the vibes on the full tune as well!
Monkey Marc: Working with Prince Alla was a real honour. Such a legend. A while back, Mista Savona messaged me from Jamaica when he was working with him at the time, so I immediately lined up a session with him for that track.
Lyrically Speng Bond is so on point, especially with the sentiment running through the air at the moment. That whole burn down Rome sentiment is something I resonate with from my activist roots. Smashing the system has never felt more relevant than now.
I feel like the beauty of the way Prince Alla does it is so unique, as on one side we have an acoustic version that has a whole power in itself, and then on the flip side "Mash Down Rome" has a real militant feel which feels more ready for a protest on the streets. Speng Bond really raises the bar with this too. He gave the song that feel of urgency.
It's a message that will always be potent until the system finds a balance again. The balance of power needs to flip if we want to progress together on this planet.
TGT: The closer "Positive Vibes" is an instrumental, a format you're no stranger to, most notably for your Post Traumatic Dub 7" out on Jahtari. While typically you've approached instrumentals from more of a ragga and digital perspective, here there's a sense of homage to the shuffling mysticism of the "Far East" sound. What led you to such a potent-yet-accessible final track?
Monkey Marc: "Positive Vibes "is almost like a homage to my past. We used to run a sound system called Labrats here in Australia that we would take to protests all over the country. We were pretty hardcore but at the same time we always had the attitude to try and win the other side over. That kind of "kill them with positive vibes" concept.
"That moment where you would be blocking a main street with a sound system in the centre of Sydney with a whole line of 50 cops facing you and then one comes up to you to request a song. And then you play it and then the energy would flip. That moment of commonality would occur. Sometimes just for a minute or two. Those potent moments where two opposing sides could connect."
Stuff like that would happen to us all the time. I was always the DJ on my sound system so I would always make sure I was ready to play something the other side wanted. I played everything from AC/DC to Slim Dusty. I think we even had a cop rap on the mic once.
But you're right. It does hearken back to the sound I released with my Jahtari crew. Big ups Disrupt and Naram!
It's a sound that comes naturally for me. It's open and doesn't have boundaries, and also has the kind of mental space for the listener going on a journey.
I also wanted the track to have a slightly up-in-the-air feeling, as a signal that something more is coming. Here's an exclusive scoop for NiceUp – I'm working on Vital Sound II. I have an incredible line up of artists who I'm working with and it's going to be huge. The second album is shaping up to be even bigger than the first.
I'm aiming to release the first single by March 2021. Get ready!
TGT: Finally, the pandemic and its side-effects have certainly impacted you – from delaying the album release due to the contentious American election to being unable to access your Melbourne studio for months. Can you talk a bit more about your 2020, and why releasing Vital Sound as part of that is so important?
Monkey Marc: Yes absolutely. COVID hit my hometown Melbourne the hardest out of anywhere in Australia. We had just come out of our first lockdown and then we had a massive increase in COVID case numbers, so we went straight back into an even stricter stage 4 lockdown. Almost everything was closed and we had an 8pm curfew and 5km travel limit. We weren't allowed to leave the house except for limited exercise and necessary groceries. The strict lockdown continued for months.
The warehouse where my solar-powered shipping container studio is located also had a COVID-19 outbreak around that time, so the whole place was shut down. Then the government shut down all non-essential services, so my studio was shut down for even longer.
But at the same time, I was feeling strongly creatively driven, so I ended up taking my studio monitors and setting them up in my bedroom for the 112 days lockdown while I slept on the couch. That's how I finished the album in lockdown.
Then of course the US elections and the madness of Trump's politics threw things into chaos. It's one of the reasons why we released the BLM version of the video for "No Surrender," as a political statement and show of support for the people's movement. The video was actually flagged by YouTube and Facebook for sensational election-related content. It's pretty crazy actually as there was a period there for a month or so leading up to the election where online content was very strictly monitored. I think Facebook ads even shut down completely for a few days as they were worried about the potential for misinformation around the election.
So all in all 2020 has been a pretty wild ride for the planet. This album is a real reflection of these turbulent times.
I feel that now the time is ripe for Vital Sound. I feel there is no better time for music with a message that speaks to the reclaiming of power by people across the planet. We are in desperate need of change and time is running out.
"Vital Sound is hopefully not only a wake-up call but a positive show of force against the institutions of the antiquated Babylonian systems of the past and present.

This is my soundtrack to the global uprising for renegades around the planet.

It delves deep into the revolutionary roots of reggae and hip-hop, and brings the bass-heavy beats I love with an incredible army of legendary Jamaican and UK artists. I couldn't be prouder.

The album brings positive messages and aims to provide hope and power to those who are ready to move forward."
I have to say, on this 4-year journey creating this album, the album release feels strangely perfect at this moment in time. The madness of 2020 really does present urgent times straight at us. There's no escaping it. And for vital times we need Vital Sounds.
It's vital that we band together, it's vital that we act for the future of the planet, and it's vital that we attempt to heal the wrongdoings of the past.
It's time to hit the streets and why not have a good soundtrack to do it with.
More info:
Monkey Marc Facebook
Monkey Marc Bandcamp
The Groove Thief
.the future of dub is the present.
Exclusive Reviews + Interviews // Facebook // Mixcloud (Archive) // SoundCloud
Co-Founder: Pomegranate Sounds
Owner/Operator: Pomegranate Hi Fi
Writer: NiceUp
Editor: Global Reggae Charts Magazine