The Parihaka International Peace Festival will take place on 8 – 10 Jan 2010 and features some of New Zealand's best cultural and artistic talent.
NiceUp talks to festival director, Te Miringa Hohaia about the evolution of the festival and its key message – facing the challenges, being a part of the solutions.
Parihaka is a very special place for Aotearoa.  Can you please tell us a bit about yourself, you connection to Parihaka and what lead you to start the Peace Festival?
Parihaka is a very special place and it requires that those of us left with responsibilities through traditional arrangements passed down by our elders are prepared to carry out those responsibilities regardless of personal commitments, time, costs or sacrifices. Those of us who accepted these roles are unable to live ordinary lives.
Our daily, weekly and monthly lives evolve not around private property and personal income, but around the maintenance of our meeting houses and marae to host the monthly days of Te Whiti and Tohu, and any other gatherings or events required of us by the people. As a custodian of a meeting house, 'Te Paepae o Te Raukura' at Parihaka, this is the best way I can describe myself and my connection to Parihaka.
I decided to start the festival project for two main reasons – to promote and celebrate the rich legacy of non violence, respect and human dignity that best surmises the Parihaka legacy. And because of my background with various arts and culture workings spanning many years.
What are the messages and themes that the festival focuses on?
The messages and themes we focus on include – Facing the challenges, being a part of the solutions.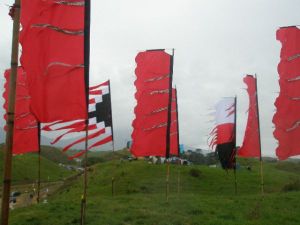 There remain a set of challenges facing Aotearoa in terms of our Colonial experience of disempowerment through land loss, assimilative policies and injustice. We are encouraging a dialogue towards certainty in the resolving of these.
New challenges include, stability and global peace, global warming, rising oceans, changing economies, changing lifestyles, access to clean water, clean food, shelter and good leadership. As well as the natural human gifts of love, recognition, empathy and kinship. Not least of all are concerns for our survival as another species on this very small planet Earth.
The festival has many other slogans but given the various arts represented in the event, I refer to this proverb we use, 'he toi whakairo, he mana tangata' – 'where there is artistic excellence, there is human dignity'.
How many years has the festival been going for and how have you seen it evolve during this time?
The festival project began with discussions in late 2004 when I decided that I had experienced people alongside me to try and make it happen. Work in earnest began in January 2005 at which point a number of leading elders became our parent body and led us forward. But the media and most public funding bodies were misled by public comments from people who misunderstood our kaupapa.
The first event in March 2006 went ahead with less than 5 percent income from Public Funding bodies. It cost nearly $1m and came through without dept. It was a historic moment in event management for us.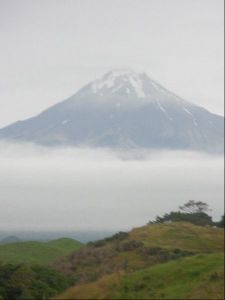 Since then changes have occurred. The involvement of skilled Parihaka people as managers has increased dramatically. A great skill base has been drawn home to help grow experience quickly.
Relationships within the event industry have taken form with everyone from production companies to trades people, to marketing companies to volunteers, the media, the artists and the public.
In 2007 we were the first people to build and operate software for e-tickets for an event. We are still the only event operating its own e-ticket, allowing us to direct market without inside charges to the ticket buyer.
Sponsorship and support from Public Funding bodies has also improved considerably. This new level of support is exciting because it will contribute to outcomes promoting, growing and celebrating Aotearoa New Zealand arts, culture and identity to the world.
Your festival promotes respect for the environment and sustainability.  Do you think that music festivals have a role to play in helping to promote environmental sustainability?
All big festivals, whether mainly music or ones with multi-events running simultaneously have to take regard of environmental sustainability. It is a good challenge.  Zero waste management is achievable. It cuts the cost of waste management yet requires little labour.
There is a need also to move away from fossil fuels for power generators. Parihaka may well have to start its own flax bio fuels plant to reach that goal. The environmental sustainability challenges facing an event are also challenges to communities. We aim to meet those through the event and move the solutions on to our community.
What can people expect from the festival in 2010?
People can expect to experience improvements at our 2010 event but its not as if these will be amazing and huge changes. Each year, through hard work we always manage to put in place better infrastructure, improved surroundings and a better atmosphere and experience all round. That's what people can expect for 2010.
We are looking forward with excitement to opening our 2010 festival event with the poowhiri (ceremonial welcome) to you all on January 8. 2010. If you'd like to know more about The Parihaka International Peace Festival please visit our website  www.parihaka.com
Naaku na,
Te Miringa
When:
Parihaka International Peace Festival – 8, 9, 10 Jan 2010 @ 246 Parihaka Road, Pungarehu, Taranaki
Featuring:
Tiki Taane, Fat Freddys Drop, King Kapisi, Ladi 6, Cornerstone Roots, L.A. Mitchell, Herbs Unplugged, Hikoikoi, House of Shem, The Kingites & more
More info:
Parihaka website
Venus Hi Fi