Driving up to Raggamuffin for the second time in the five years that it has been running, I found myself a little more nervous and excited then the first time. Not only because I was going to interview some of my favorite artists, or because the line-up was better then the first time, when there was the likes of Lauryn Hill (it was in fact worse). It was simply because I was eager to see how reggae heads in Aotearoa would react to a different type of stage show that I knew a lot of them were not accustomed to.
Arriving just after the gate opened at 11am on a sunny day after driving from Wellington, my worst fears started looking like reality. DJ Sir Vere (a hip-hop DJ) was playing ever crowd-pleasing Wailers songs one after the other like we had never heard them before. As 'One Love' echoed over the tinny sounding speakers or bad Serato quality MP3, I calmed myself down, periodically telling myself that it was only early and New Zealand HAD to be past this by now…
Chad Chambers  walked on stage with his signature white gumboots, proving a crowd favorite with his countless covers  of Maori drinking songs which I really enjoyed, taking me back to memories not so long ago. He then launched into the Bob covers, doing an alright job and entertaining us with weed jokes in between covers, which made the whole thing more bearable…just. All the while in the back of my head I was again thinking, 'we have to be past this, not a whole day of Bob covers, is Aotearoa ready to move forward?'
With the camera gear now all set up and ready to start recording, I was looking forward to Three Houses Down, as I knew that recently they have been bringing a new type of stage show sound I've been longing for New Zealand to hear. And they didn't disappoint. Within the first five minutes the crew took to the stage, a big smile was plastered on my face.
They played intros and mash-ups with classic Studio One sounding horn-lines infused with more contemporary sounds, such as the intro to 'Jah Jah Is Real' by German reggae star Gentlemen, along with countless other melodies which kept me entertained. The band was as tight as any reggae backing band I've seen, swinging between songs in a medley style that kept it energetic and up-tempo.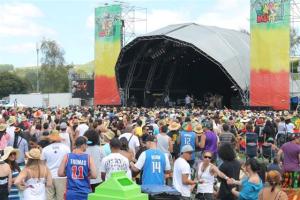 But still, were we ready for it? As the lead singer called 'low' to the band he continued to chat over the soft riddim in a half decent Patios accent which I giggled at, but still felt like the crowed didn't fully grasp the idea of high and lows within a set. As they finished up with a few of their most popular tunes, you couldn't help feeling that the band and lead singer were at their most comfortable again, and that giving the people what they were used to also took away some of the pressure for crowd reaction.
With a little more energy and engagement from the lead singer with the crowd I think peoples experience of this type of stage show would have taken flight a lot more. Overall however I can safely assume that it was a great experience for all the first timers in the crowd, and was pleased to hear New Zealand reggae moving in the right direction.
After doing some recording of the irie crowd and having a bit of a wander around the colorfully decorated grounds, we made our way backstage to record the lovers rock crowd favorite, Spawn Breezie.  Sprinting on stage just after he grabbed our camera and shook it until the tape nearly fell out, giving Nice Up TV a big shout out, he was immediately meet with loud roars. With mass amounts of energy and a silky smooth RnB voice he floated over tracks lifted by the crowd's cheers and willingness to sing every word of his songs louder then him.
This is not traditional lovers rock but a unique sound mixed with modern day or 90s RnB, and it has proved to be a huge favorite everywhere he goes. Some will call it BBQ Islander reggae, but this sound doesn't fall into that category at all. With high standards of musicianship and vocal arrangements, this is modern lovers rock at its tip a top. In his interview Breezie stated that Boys 2 Men and Gregory Isaacs are some of his main influences.
With the same backing band as Spawn it was time for J Boog to enter the stage. His intro before getting on stage consisted of home town Californian G-funk classics like 'California Love' from Tupac and Dr Dre, hyping up the huge crowd who had all come in early to see this huge Samoan. After finally entering the stage on a mellow-mood, down-tempo soul tune, the crowd seemed to anti-climax slightly, only to be revived a few minutes later with an easy mid-tempo roots tune 'Give Thanks'.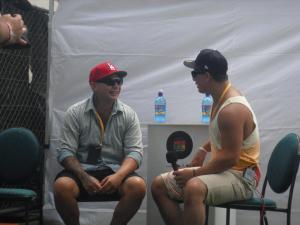 Flicking between conscious tunes and lovers tunes seemed to work well on the crowd who were taken on a journey what was a masterfully structured roots set with plenty of highs and low, appealing to all heads.
The defining moment for me that permanently cemented that smile on my face in the knowing that New Zealandwas ready to progress, and more importantly actually are, is when they broke down a track called 'Ganja Farmer' (originally done by Marlon Asher). They mashed the whole song tempo and vibe up into dancehall highs and One Drop lows, gifting J Boog the crowd in the palm of his hands. The crowd willingly ate up every bit, embracing and giving back the vibes the whole way through the track and the remainder of his set.This was a true high-grade roots set in all its elements, indulging the crowd in a little bit of everything from dubby solos to fast-paced, high-energy dancehall mash ups.
After a few more interviews with the like of House of Shem and rapper K.One, I was well content and it was time to head back to Wellington for my own gig. Unfortunately I didn't get to see any other acts because of time restraints, but still left fully fulfilled. Instead of nervous I was filled with excitement to see what the future of South Pacific Islander reggae had for us.
I think New Zealand and the South Pacific are coming to a new 'reggae maturity' that is steadily showing signs of ascension within the live bands, and sound quality of the reggae being produced. We've realized there is more out there than Bob Marley and constant lovers tunes, but a whole diverse reggae world, which a lot of New Zealanders are hearing for the first time.
But I also think at the same time us people down-under, including myself, love our Bob Marley and our Maori 'ten guitar' drinking songs too, because we love singing together. The majority of Islanders were brought up in churchs or on maraes, and went to house parties where everyone sung along, and these type of songs are all sing-a-longs. Like the saying from 'Once Were Warriors' goes, 'play something we all know.'
Thanks to Raggamuffin for having me.
Israel Starr