I was introduced to Jamaican music during my early teens, as a young rude boy growing up in Sydney, through the likes of The Specials and other bands of the 2Tone era.
Hearing their music and learning that it was influenced by Jamaican music of the 60s and early 70s sent me on a mission of sorts to discover the origins of the sounds, which, at that time in the mid-1980s, would mould my future musical tastes forever.
I played in a couple of Ska and Reggae bands from the late 80s to early 90s and have been DJing, in clubs, bars, warehouses and radio, on and off since the mid 90s. I listen to, collect, and play a lot of different musical genres now – from Funk, Soul, Rap, Latin joints to 60s Garage and Psych, Mod and R&B – and always find myself listening for deep bass lines and productions akin to those coming out of the studios of a young Jamaica in whatever music I come across.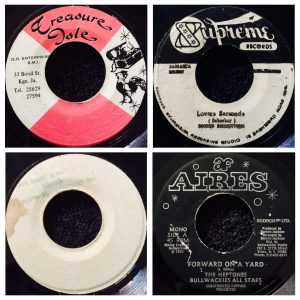 I'm also one-third builder / owner / operator / selector of Sydney's Inner West Reggae Disco Machine along with Gonz and Stevie Dub. This has given me an avenue to explore and appreciate music that I would most probably have steered away from if I hadn't heard it the way it was meant to be heard – through a proper sound system!
I find it a really daunting and difficult task to narrow down a very extensive, ever changing list of tunes to a top ten list of favourites. So instead of confusing and frustrating myself trying to compile a list of favourite tunes, I'm gonna hit you with a selection that's been on high rotation 'pon the rekkid machines at our weekly Reggae Sunday session and sound system dances, that get a crowd reaction.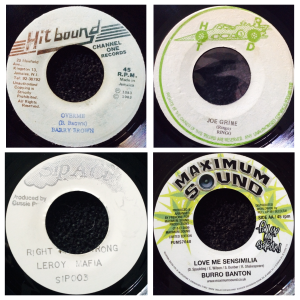 From toe taps to head nods to straight up jump and prance – every time they blast from the speakers. They range from Jamaican oldies to more recent outernational reggae sounds.
For more music check my MixCloud page or tune in to our radio show – Dubbers Rock on Bondi Beach Radio, fortnightly Saturdays from 12pm-2pm, presented by Stevie Dub and myself.
More info:
Rik Sonic MixCloud
Inner West Reggae Disco Facebook
Rik Sonic Top Ten on YouTube
Dubbers Rock on Bondi Beach Radio, fortnightly Saturdays, 12pm-2pm
1. Roland Alphonso & the Studio1 Orchestra – Drums of Fueman Tru (Studio1)
2. Prince Buster – Hard Man Fe Dead (Blue Beat)
3. Hopeton Lewis – Testify (Treasure Isle blank)
4. Sound Dimension – Lovers Serenade (Supreme) 'Love Land' riddim
5. Tommy McCook – Stupid Doctor (Baron's blank) 'Woman Of The Ghetto' riddim
https://www.youtube.com/watch?v=2MMdiC0hHgc
6. The Heptones – Forward On A Yard (Aires)
7. Barry Brown – Over Me (Hitbound)
8. Ringo – Joe Grine (Hot Rod) 'Swing Easy' riddim
9. Leroy Mafia – Right From Wrong (Sip-A-Cup) 'Foot of the Mountain' riddim
10. Burro Banton – Tek A Set (Massive B) 'Cuss Cuss' riddim