The Groove Thief traveled to Bordeaux, France, to represent NiceUp at the 2015 Reggae Sun Ska Festival. The following interviews, with both members of L'Entourloop (Deej'o and The Architect) as well as guest vocalist Thioum C, come from backstage during the festival.
Like to read more about L'Entourloop's latest album? Check out TGT's review of Chickens In Your Town.
A special thanks goes to LëKSs of ▶▶△ for handling the translations from French!
THIOUM C
TGT: Alright, so… it's The Groove Thief here with NiceUp, backstage after L'Entourloop just finished their set… so, what do you think of the crowd, the audience?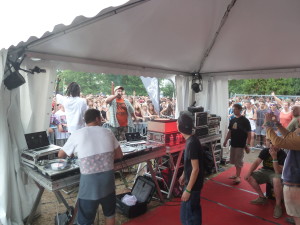 TC: Yeah so good, nice show and I'm so happy to come down in here but I'm living in Senegal, […] Yes I'm Senegalese. Yes, I come down here to meet my brothers, L'Entourloop.
Yes, they are my good brothers. I have 2 tracks in their new album. So I came down here for some dates of the musical tour.
TGT: Yeah yeah, so we are here at Reggae Sun Ska, are you doing some other festivals this summer in Europe?
TC: Yes yes, so my first performance with L'Entourloop was in Belgium yesterday.
TGT: Oh sweet, fantastic!
TC: Thank you, but I have one crew there, the name is Mondogift [switching to French] it's where I met L'Entourloop. After [that] they invited me on one of their tracks. I made it with them so it created a connection. They feel I could make something with them and so it's the first we are meeting to perform on stage and honestly, I'm touched straight to the heart. Frankly, I like what they are doing and I feel part of L'Entourloop.
TGT: Ah, tres bien, tres bien, don't worry my crew is French so they will help me to translate, no problem. So today you are with Troy Berkley and LMK, is it the first you did together?
TC: Yeah, the first show.
TGT: So this was really like the [L'Entourloop] album but live, yeah?
TC: Yeah, Troy Berkley, I listened to him on the album but I didn't know who he was. It's the first time I see him, first time we meet, first time we know each other. He's an awesome guy, we have shared the stage together and I really enjoyed. Honestly, I really enjoyed what he's doing.
TGT: So, how is the crowd here in France and in Belgium compare to the crowd in Senegal? Is it very different vibes?
TC: There is [a] few differences, here you see the public is warmer than in Senegal because us, we don't have this kind of stage/scene. Sometimes, it means missing, but people, they like the music even if the problem is we don't have the correct equipment; we don't have a good support to organize this kind of festival. Honestly, it's leaving a mark on me, it's affected me to participate in this kind of scene and it's an experience I can bring home to improve our music.
TGT: Great! So how long are you gonna be in Europe?
TC: 3 months.
TGT: Oh nice nice, ok. So you will be doing festivals but you will be also doing some recording in a studio?
TC: Yes, I have a tour to do in France and I had the opportunity to go out yesterday with L'Entourloop to go in Belgium and this morning we came back to play at this [Reggae] Sun Ska Festival.
After I will come back with my band Mondogift to tour in France, it's for 3 months. I'm very happy to have participated to this kind of festival and I hope, I can come back here next year, why not with my band from Senegal or why not transpose this kind of festival in Senegal to make people able to live the music there.
TGT: Ok, ok, cool!
TC: Merci beaucoup.
TGT: Much love, man, thank you.
TC: Yeah. Nice up!
DEEJ'O of L'ENTOURLOOP
TGT: What do you think of the crowd today?
D: It's incredible, I… I can speak French? It's better for me…
TGT: Yeah, yeah, no problem.
D: [switching to French] It's really a festival. Yeah for us, it's the first time we play in soundsystem mode and for us, it's true, it's changing completely. It's much more free, people are very released. Yes, for us, it's much better.
TGT: Cool. So, your sound is really reggae meets hiphop?
D: Yeah.
TGT: But do you think one is more important, or with your background in production and deejing, one style is more dominating. Or is it 50-50? 50% reggae, 50% hiphop?
D: [in English] I don't know, I don't know, I love hiphop, I love reggae, I don't want to 50-50 – it's the feeling, the feeling!

TGT: So, it seems to me that you are more in a hiphop tradition of digging for samples, is that true?
D: Yeah, um… we are hiphop guys, but hiphop and reggae are in the same way you know. We practice mixing with hiphop techniques and we use reggae samples.
TGT: Your new album is Chickens In Your Town. So, are you guys the chickens or where does the idea of the concept of the album come from?
D: [switching to French] The idea of the chickens, it's at the beginning a dedication, a homage. Knowing we are using voice samples of Jean-Pierre Mariel from French cinema. It's the former logo of Pathé, their cinema logo was a cock [a rooster] and in Jamaica, the chicken is one of the most common dishes. There is really a whole thing with the cock and so, it's a bit also for the "franchouillard"[typically French] effect.
TGT: Ok, so you are waiting for Le Coq Sportif for a little sponsorship? [pointing to Deej'o's logo t-shirt]
D: Haha, yeah it's also a reference to Le Coq Sportif. We come from Saint Etienne and our football team is now sponsored by Le Coq Sportif, so it's a bit also for this I'm wearing a t-shirt of Le Coq Sportif.
TGT: Oh ok, ok. Now [for] your new album, you are bringing more and more singers in. You had Jamalski from the UK and Aaron Cohen from the US. So are you bringing the singers to France or you're working over the Internet or how do you do your recording?
D: We have worked via the Internet. We have met Aaron Cohen, he came for a concert in Saint Etienne and we managed to catch him to toast/sing on a track. He really liked the instru[mental] even if it's changed really from what he was doing at that moment.
And, then, from others artists like Gavlyn, we managed to meet her too but others, it was only on the Internet. Jamalski, we never met him, it was only on the Internet. Then, it's only a matter of feelings, on the Internet or face to face. When there is a feeling and it happened well, yeah, it's a matter of feelings before everything.
TGT: Yeah, ok, ok. So you guys are obviously listening to a lot of vocalists to try to find styles and sounds which fit with what you wanna do. Like to match a good vocalist with the L'Entourloop style, yeah? Since today, you had singer from Senegal [Thioum C], Troy Berkley from Bermuda, and then LMK, so you are very very international so quickly yeah?
D: Yeah, yeah…
TGT: Which is very cool!
D: Thank you.
TGT: Oh no [laughs], it's… you know, I've been listening to you guys for a long long time so it's very exciting to hear your live show.
D: Thank you.
TGT: Yeah thank you! Merci beaucoup!
D: Merci a toi!
THE ARCHITECT of L'ENTOURLOOP
TGT: So, I'm curious, obviously you guys feature a lot of live vocalists…
TA: Yeah.
TGT: But you also do a lot of sampling. So have you had any issues getting samples cleared considering you do pull from a lot of classic hiphop songs and things like that?
TA: For the live, we use a lot of samples, but it's OK. For the album, first for the remix, we use a lot of samples, but now we clear the samples for the album and try to find for the rights of the tracks. But there is other things for the live, for internet with a free sample, and a lot of things.
We are also diggers, you know, we have a big, big collection of records and some rare records, you know, different from the other version, so we try to sample some very special records.
TGT: Yeah, you really are the most hiphop group here at a reggae festival, so it's obvious from both your EP and your new album that you're bringing a hiphop style with a reggae sound, yeah?
TA: Yeah, definitely, we are. And for the sample, to finish with the sample, we try to, with other musicians, reloop the samples and try to arrangement and different things. And yeah, we are hiphop, at the base, with my friend Deej'o. When I heard earlier reggae samples, I just, you know – where is the beat? You know, the bottom.
TGT: Yeah, like the Millie Small one you used on the…
TA: Millie Small is one of my perfect artists. I have all the "My Boy Lollipop" song – I have twenty versions, something like that. 45, EP, LP.
TGT: So then you really are able to dig deep in your collection to find really the right fit for the L'Entourloop song.
TA: I try to – yeah, yeah, I try to. Very special version, is what I said yeah. For L'Entourloop we use a lot of samples from special albums like the Dr. Alimantado – you know this guy used other samples and put his name on the tracks, you know this kind of … hiphop things. For me, it's hiphop. There is a lot of reggae, Jamaican artists: this is hiphop.
TGT: I mean… you're really blazing a new trail rather than making mashups with reggae or something…
TA: Some artists, when I am 18 or so… killing me, like Rodney P, you know Jamalski, or this kind of – it's why we try to make this kind of music. And in Jamaica, MCing come from Jamaica, toasting, deejaying, scratching, all, yeah, from the soundsystem, it's why it's a pleasure to play here. It's near our first time in soundsystem. We [usually] play on stage with videos.
TGT: The crowd really seemed to receive it positively, especially being an early set in the night, but the place was packed and people were going crazy.
TA: We feel that, yeah, very good!
TGT: And I'm wondering, obviously you do a lot on your own as The Architect, how do you separate – you know, when you get an idea, how do you decide is this is a The Architect idea or is this a L'Entourloop idea.
TA: This is always Architect idea. [Laughs] You know, and for L'Entourloop I work with Deej'o… so I have an idea, Deej'o have another idea, and we put together. Architect, I make a lot of tour with this project with my friend before on the [live] video, and we have a new album ready now for maybe next time, next year. But L'Entourloop we have a lot of gigs, and I stop Architect and continue with Deej'o and maybe have another album with Architect… and I have other projects do.
TGT: So you're saying you've got an Architect album pretty much ready to go, but you're gonna make us wait?
TA: Yeah, because, first time when we tour with L'Entourloop, I don't exactly know how time will turn, and it's my job. So yeah, I like music, I make every day music, with my wife too, I have another project.
TGT: Oh yeah? What project is that?
TA: It's name is BLOC. B-L-O-C. Trip-hip project, with some video artists… Different, in a theater or some kind of place.

TGT: So then, are you really able to make it work being an artist fulltime? I mean, obviously we're all well aware of the economic…
TA: Yeah, yeah! I have my family, a little girl, since six years I've lived from my music.
TGT: Wow, fantastic.
TA: I'm not a big – you know – but in France you can live with [regime des intermittent a du spectacle]… it's a [system] for artists.
TGT: So do you find the French government is more supportive of artists than a lot of other countries?
TA: No.
TGT: No? Ok, ok…
TA: Really, it's not what I say. It's cool, it's cool to have that, but there isn't a big excess, this is different – this is a very, very long question. I have made some travels, when you travel you know the contact and, with the music, I think is more direct you know?
TGT: Yeah, yeah.
TA: In France you have a big institution – it's not so easy. I think there will have some changement for artists in France in the next few years. But I love the instinct they have in India – the people can dance at 8, it's not the same approach.
TGT: You guys did a tour of India recently, yeah? What were your thoughts on that? Did you find the crowds knew your music and your style, or did you have to convince them?
TA: No [laughs]. Not easy, but yeah – big crowd, some gigs with 500 people… in Bangalore, it was crazy!
TGT: Cool, alright. Thank you so much for the time, really appreciate it!
More info:
L'Entourloop SoundCloud
L'Entourloop Facebook
The Groove Thief
.the future of dub is the present.
Reviews // Facebook // Soundcloud // Mixcloud
Featured in the South China Morning Post: "Tastemaker"
Featured in Boom Magazine: "Notes From The Underground"