Tell me about your time on the radio.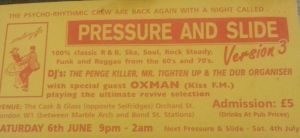 I did a year on Kiss FM with Manasseh. I filled in for a guy called Bill, it was me, Jerry the Equaliser, Manasseh, and Eddie Joseph, a Twelve Tribe member, and that was nice. We each did a week each month on rotation. It was always roots but I was the only one who talked, it's just how I like to present the music.
it was a good experience as I'd done community or pirate radio prior to that, but working in an environment where the equipment was professional, that was different.
Tell us a bit about your involvement with the Dub Vendor All Stars.
Dub Vendor is another big chapter in my life, it has been almost 20 years. I think it was 1995, I'd known John and Phillip for a long time, cause I'd been buying from them for a long time. The first time I was working in a record shop was 1982, I used to work for a producer called Larry Lawrence who passed away, but his catalogue lives on, and that was in Brixton.
From there I went from record shop to record shop. I worked for Tony Williams, who was one of the first reggae presenters on legal radio, Ariwa, and other independent shops, until I got to Dub Vendor. I almost worked for Blacka Dread but if I worked from him I wouldn't have ended up at Dub Vendor. Apparently when Blacka got the shop, at the time his business partner, a guy called Dennis, was searching for me to offer me a job, but i didn't know this and he couldn't find me.
One of the Dub Vendor crew, Gaffa Blue, had taken a week off, and John wanted someone to fill in for the week. It was only meant to be for the week. I did my one week there and they were so pleased with my work and my rapport with the customers, that 20 years later here I am same way. Is a long week innit!
Working for Dub Vendor has opened up a lot of avenues in the reggae world. Anyone, producers, singers, when they come to London they come to Dub Vendor. So I've got to know a lot of them people, like Joe Gibbs, Ossie Hibbert, Donovan Germaine, and loads, loads more. Thats been a nice part of it as well. Some of that helped when I was producing as well.