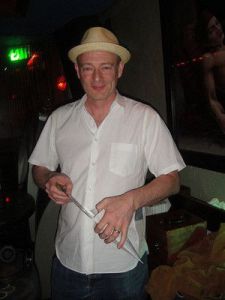 Born in Wellington, New Zealand, Steve The Hat has been spreading his musical goodness since the 80s.
Kicking off his career in the Capital, he played in classic Wellington clubs such as Claire's and Naked Angel during the 80s and early 90s.
He relocated to London in 1992 and has since deejayed across the UK, New York, LA, Vienna and Milan, plus on the occasional visit back to Wellington, rocking venues such as the Matterhorn and Good Luck Bar.
A serious vinyl collector, Steve originally focused on pre-house club music and hip-hop, but since the late 80s reggae has increasingly come to dominate his repertoire. Having a diverse, solid collection and musical knowledge, Steve is also equally happy playing Soul, Funk, 50s/90s RnB and Rare Groove Two Step, among other genres.
Whether playing classic revival sounds from Ska to Rocksteady and Roots or Digital, Dancehall and Rub a Dub, his selection is always designed to move the crowd. And it's gotta be on vinyl!
NZ people can check his killa selections on these shores in 2012 – stay tuned!
More info:
Steve the Hat SoundCloud
Big up to Steve the Hat for his Top Ten 45 Revive Killers (in chronological order).
1. Hush Puppy – Audley Williams & Granville Williams Orchestra with Ernest Ranglin (GWO Records JA)
2. Rockfort Rude Boy (Instrumental) – Tommy McCook (Karl Walker/Soft Touch Blank JA)
3. Shanty Town – Soul Brothers (Island UK)
4. Coming on the Scene – Johnny & The Attractions (Gayfeet JA)
5. Put Down Your Fire – Kingstonians (JJ Records Blank JA)
6. 54-46 That's My Number – Maytals (UK Pyramid)
7. Last Laugh – Monty Morris (Credited as The Time by Easton Howard on Mercury Label JA)
8. Unchained – Bob Andy (Studio 1 JA)
9. African Dub – Silvertones (Trojan Rockers UK)
10. Jah Jah Send the Parson – Black Oney (Record Smith JA)