I better get my disclaimers in nice and early. Although this is my opinion on revival dub reissue LPs, I am much more a 7 and 12s man and I only buy and play out originals. That rule however has never followed for albums. Through the years I have picked up a few, although rarely had the time to sit down and listen. Having relocated from the centre of London out to the greenery of UK's home counties I find myself driving around more. All of the albums have now had a dust off and I have rediscovered my love for revival dub.
Everyone's journey into reggae is different and I did mine backwards really. I got into what I refer to as 90s dub and roots in the, well, 90s. The tunes that interested me however were the revival ones and they were of course complimented by their dubs. I remember one session and 90s dubs were flying and I was getting a bit bored. I decided if I didn't like the next track I would leave. I didn't leave! The tune was 'Prince Alla – Stone' along with its brutal dub c/o Tubbys. From that moment on I was seeking out tunes of this nature.
I decided not to include the superb Revolutionaries or Aggrovators albums in this list, only as I didn't have space!
I think the first was King Tubby meets The Upsetter – At The Grass Roots of Dub. A friend of mine was big into Lee Perry and The Upsetters so I thought that taking a punt on this album would be a good move. It was! Lovely sound with some great horns snatches. Not too tough but by no means weak. All tracks are Winston Edwards productions and I can't think that I have many, if any, of the vocals.
Also Augustus Pablo – King Tubbys Meets Rockers Uptown defined dub for me. I had a couple of Pablo albums and loved the sound of the melodica but his tunes took on a whole new meaning when given a good dub going over.  One of the reasons I don't have much time for LPs is the fact they often sound thrown together. This one sounds like it was meant to be. Hard and uncompromising.
King Tubby And The Soul Syndicate – Freedom Sounds In Dub is a faultless collection of classics. Nice, no nonsense sound. All the classics are there, too many to mention. A superb representation of a superb label. You can argue about the worthfullness of all these reissues but this album alone sums up why these collections should not be hidden.
The problem for anyone collecting from this time is often information about the music is incorrect and tends to get exaggerated, so you can never fully trust what you hear.  Certainly issuing and reissuing seems like a murky business with opinions differing greatly. A few years ago I started hearing mainly Scientist saying that most of the King Tubby albums you see have very little to do with the man and are certainly not produced by him. I do feel slightly cheated by this but it seems like the whole truth may never come out.
It is said that Tubby only produced 3 albums (not counting retrospective compilations). These were Brass Rockers, which if memory serves me correctly was also released by the name of Cookin.  It is a superb collection of Bunny Lee riddims with fat horns and nice effects. And The Roots Of Dub and Dub From The Roots. A nice collection of some heavy mixes. It has a bit of a thrown together feel but even with all the doubt, this is Tubby! Probably!
Some of the most classic dub albums were the ones Scientist recorded for Greenleeves (or Greedsleeves as I think he now calls them!). With the iconic Tony McDermott sleeves, these should grace the collection of any self-respecting reggae head. You could pick any of them really, whether they be Junjo Lawes or Linval Thompson productions. Top quality sound, the odd vocal snatch for good measure and such a nice dub flow c/o Scientist or Prince Jammy.
I pick Scientist vs. Prince Jammy – Big Showdown At King Tubby's. There is no track listing but for me the second track, a hard dub to 'Barrington Levy – Look Youthman' is a highlight. Scientist Wins The World Cup is also a favourite. Nice spacey dubs to tracks like 'Janet Sinclair' and 'Love Is Universal' are collected on this.
Like I said, the Greensleeves albums are some of the best released but due to ongoing disputes with Scientist, they have reissued them not using his name. While the albums are the same, I would avoid picking them up, purely out of principle!
Another favourite of mine from Scientist are two LPs that Auralex put out. Dub Landing Part 1, just credited to Scientist, and Dub Landing Part 2, credited to Scientist and Jammy. Some really nice flowing dubs. I think I remember hearing that some of the tracks are from a Rod Taylor album recorded then lost! A great release anyhow.
PRINCE JAMMY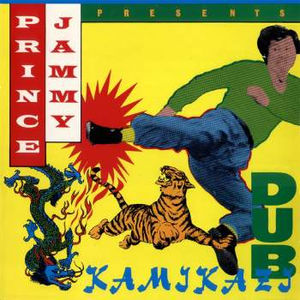 Kamikazi Dub has to be one of my all-time favourites. It has dubs to tracks by Black Uhuru and great roots work before Prince turned to King! Great titles as well, 'Throne Of Blood', Origami Black Belt' and 'Swords Of Vengeance' add a bit of drama to proceedings. Also in a similar vein is In Lions Style. Jammys version of the King In The Arena riddim is tuff as old boots!
A worthy reissue is Pressure Sounds – Strictly Dub. This is proper blow you off your feet dub. Starting off with a hard as version of 'Noel Phillips – Youthman', it continues in a similar vein and leaves you feeling like you have had a dub licking! Big, big sound and effects. Not for the faint-hearted!
Another release from the Auralux label is Fatman presents Prince Jammy Vs Crucial Bunny – Dub Contest. It is a great collection of big riddims and although the first track has a bird call sample which annoys the hell out of me, the other tracks are great. Hard dub on familiar riddims is no bad thing.
There is also the Blood and Fire release Dennis Brown Presents Prince Jammy – Umoja / 20th Century Dubwise. This contains some great dubs to tracks released on Jammy's own dub label. A worthy addition to any collection.
Niney was always good for a dub. I remember talking to an old dread at a Jah Shaka dance at The Rocket in North London who told me about a legendary dub album called The Sledgehammer. 'You will never own it' he said. Luckily Motion reissued it and Niney The Observer – Sledgehammer Dub In The Streets Of Jamaica is quite some release. Great tracks with some of his classic Dennis Brown productions all given a dub workout. Again, one of those albums that makes you feel like you have had a kick in. 'Tribulation Version' still gets me every time I hear it.
Also in my collection is a heartbeat collection called Niney The Observer Presents King Tubby In Dub – Bring The Dub Come. Another collection of slightly different vocals including, as you would have thought, the monstrous 'Bring The Kutchie Come' tune. All nice dub goodness!
STUDIO ONE

Studio One dub albums have never really done the riddims justice. It's not that they are bad but they sound hurriedly thrown together. Though there are a few to choose from, there isn't a definitive one for me.
My two top are V/A Dub Store Special and a collection I have that Heartbeat put out called Dub Specialist: 17 Shots From Studio One. A nice collection of more rootsy stuff. Worth a place in any collection and 8 out of 10.
For me the African Dub Parts 1 – 4, while all being different are very good. Also the collection that Pressure Sounds put out, Joe Gibbs And The Professionals – No Bones For The Dogs, is top class. This is a collection of Mighty Two dub versions found on the back on many singles. Heavy on the samples and effects but done well.
VOCAL / DUB ALBUMS

In the late 90s it seemed like every other week labels like Blood and Fire and Pressure Sounds were releasing LPs and a few were re-issued with vocal and dubs albums. Of them, Horace Andy – In The Light Dub  and the added dub album to Earth and Stone, Kool Roots and Lee Perry – Produced And Directed By The Upsetter, were strong vocal albums made even better by the accompanying dub workouts.
When dub was quite clearly very important it seemed only right that each label should be represented by a dub album as well. Freedom Sounds has always been a favourite label of mine from day one, so King Tubby Presents Freedom Sounds In Dub was always going to be a winner. It is almost faultless and includes all the big dubs to all the big Freedom Sounds tunes including 'Great Stone' which I mentioned earlier.
Another of my favourite labels is JA Man. Quality no-frills roots always complimented by great versions. So it follows JA Man All Stars – In The Dub Zone would be a winner. Big tracks with a lovely rich sound. There are too many stand-out tracks to mention, although the version to 'Bim Shermans – Mighty Ruler' is unsurprisingly a highlight!
It doesn't stop there. Phase One Dub Wise is a great collection from another top roots label. Full of hits and again, really nice sound.
What about Black and White label I hear you ask? Don't frett, they have dub representation as well! Carlton Patterson and King Tubby – Black And White In Dub is a beautifully put together collection of all the versions on the Black and White label. And as a label they always took the time to name their dubs something other than '…. dub' which I think is a nice touch. 'King At The Controls' is my stand out track.
Rockers All Stars – Chanting Dub: With The Help Of The Father is a great release. More subtle then the earlier mentioned Pablo dub albums, this is a nice flowing release. It has seen a few reissues so should be about.
Dubbing With The Royals includes the dub to 'Promised Land' which I still have problems believing wasn't put on the B-side of the 7″, it is a real all-time classic. I think Morwell Unlimited Meet King Tubbys – Dub Me is a reissue of an LP pressed in small numbers. Hard dubs to Morwell tracks. Yabby You – King Tubbys Prophesy Of Dub is a rightful hard dub album of his big hits. Nice fat sound that really does the artist credit.
One of my favourite producers will always be Jack Ruby. His work with Burning Spear and other artists never tires and his big sound always deserved a big dub album. Black Foundation In Dub is that. It makes up for the slightly disappointing dub albums like 'Marcus Garvey' which are generally not rated. They are not bad but again they don't do the vocal LP justice. If it's Burning Spear dubs you want then check out Living Dub Volume 1 and 2. Winston Rodney produced dubs to the 'Social Living' and 'Hail Him' albums. Very good releases indeed.
Ossie Hibbert is another name seen on many great singles. He is represented by two great dub LPs. Earthquake Dub is a no frills collection of nice upbeat tracks. The furious dub to 'Rastaman From Zion is my pick. Also Leggo Dub sees a lot of his Gregory Isaacs productions given their dub treatment. There are a few too many unnecessary samples for me but it is worthy of a mention.
Tappa Zukie may be best know for his deejay work but he was a mean producer as well. Again represented here by two releases, firstly Tappa Zukie In Dub sees some classic Jnr Ross and The Spears tracks getting a dub workout. Perhaps slightly better is the Escape From Hell album. This has been reissued a few times but is a real nice listen.
TOP TWELVE DUB REVIVE LPS

1. King Tubby & Soul Syndicate – Freedom Sounds In Dub
2. Rockers All Stars – Chanting Dub With The Help Of The Father
3. Jack Ruby – Black Foundation In Dub
4. King Tubby Meets The Upsetter At The Grass Roots Of Dub
5. Revolutionaries – Earthquake Dub
6. Scientist Wins The World Cup
7. Prince Jammy – Strictly Dub
8. JA Man All Stars – In The Dub Zone
9. Prince Jammy – Kamikazi Dub
10. Niney The Observer – Sledgehammer Dub In The Streets Of Jamaica
11. Augustus Pablo – King Tubby Meets Rockers Uptown
12. Yabby You – King Tubbys Prophesy Of Dub
Plattsie OneVoice
Instagram
MixCloud
SoundCloud