16 – 23 August @ Benicassim, Spain
Writing a review on a festival such as Rototom Sunsplash is a daunting challenge. This festival is in its 21th edition, and to give such an experience a fair representation is a hard feat.
Nevertheless I was conscious of this throughout the 8-days and balanced my time writing reviews, conducting interviews, and linking up with artists, activists, charity organisations, promoters, and other reggae enthusiasts (nerds….). And of course the rest of my time was taken trying to absorb all the music.
Day 1 – 16 August
I flew to the festival from Lisbon, Portugal. Upon arrival, I had a few problems with transport and tickets, but all was sorted in the end and I camped onsite for the duration of the festival.
First up, I checked the many stores selling every kind of reggae merchandise you can imagine, so much red gold and green everywhere! Straight away I heard some rocksteady coming from the Ska Club, from Spanish locals, Freedom Club, and the sounds drew me in. The craziness of getting to the festival, (taxi, flight, taxi, train, taxi) was all melting away as I moonstomped to rocksteady and ska. Throughout festival it was a nice vibe at the Ska Club, with rude boys and girls from all around the world celebrating original skinhead culture.
I was really excited to see Kabaka Pyramid, who got the whole main stage going crazy right from the first tune. Kabaka livicated his set to Marcus Garvy, as it was his birthday (17 August). Later he lowered the vibes, taking it down low for the empresses, but never lost the crowd. He managed to bring the vibes all hype again, jumping around waving hands, while also presenting themes of conscious thoughts and actions. Kabaka and his band the Bebble Rockers put on one of the tightest band/singer performances I have ever seen. Kabaka is very on point, and has a good clean sound.
At his press conference, Kabaka spoke about the term "reggae revival", saying, "revival is not really important for me, it is just my time, along with Chronixx, Protege, and Jesse Royal. Just like it was for Sizzla, Garnet Silk, Luciano, and Buju Banton (free Buju)".
Busy Signal took the main stage backed by the High Voltage band. Busy played his big tunes, and although it did get a bit too much on his R&B side for me, the crowd was loving it. The last part of his set picked up the pace and was full of vibes.
Back to the Ska Club, where I lost track of time and unfortunately missed most of Jimmy Cliff. Bass Odyssey on the Dancehall stage was crazy, not the irie-ist of vibes, but they delivered a good set of dancehall anthems and some wicked dub plate specials from Busy Signal, "Jamaica Love", a combination dub from Jr Gong and Bounty Killer, "Khaki Suit", plus too many Bounty Killer specials to count! "Squingy say Bounty Killer is mi artist"!
The mixing style of Bass Odyssey and a lot of the other DJ/artists on the Dancehall stage is not my thing, sliding the cross fader over while yelling over the top of lyrics on the tune isn't really 'mixing' from my point of view. However the energetic vibes of a lot of the dancehall sounds I saw were next level, so in a way the energy makes up for that mixing style. I really think New Zealand's top dancehall DJs (Art Offical, Lock Steady, FJ, Azbo, Low 1, etc) could definitely mix and deliver a show that would impress Rototom and be just as good as many of the artists on the Dancehall stage.
Day 2 – 17 August
That feeling when you wake up dehydrated and hot in a tent, meant straight down to the beach for some swimming, food, and African dance lessons. At Rototom the festival site opens at 4pm and closes around 7am, or whenever the music stops. This way the stall vendors and festival organisers have a way of maintaining the site and keeping it in good order.
Over the 8 days, 260,000 people came to Rototom. A lot of people only come for one or two days, but many people stayed for the full 8 days. Some staying in Benicassim town, a 15 minute walk away, and others like me camping. The camp site facilities were well maintained throughout out the festival which helps everybody enjoy the vibe.
More Music! New artist Romain Virgo backed by the Unit Band on the main stage was good and is definitely an artist to watch in 2015. Collie Buddz played a great set full of his hits, with a good balance of tunes "for the ladies", R&B, lovers style, and more heavy vibe dancehall and one drop.
King of the Dancehall, Bennie Man, took the stage and his set was full vibes and energy. This veteran dancehall artist gave an energetic set full of heavy one drops. Backed by his band Zagga Zow, he took Rototom to crazy heights, performing his some of his massive tunes like "King of the Dancehall", "Rum & Red Bull" and many others.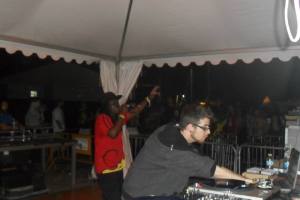 I ventured to the Dancehall stage to catch Pow Pow Movement from Germany, and it was nice to catch some conscious vibes there. I then caught the end of Riddim Tuffa and El Fata, at the Dub Academy. Riddim Tuffa played some heavy rub-a-dub while El Fata chatted and held the dance in true sound system style and fashion.
Rototom is a really hard festival to cover and report on because at every moment there are multiple things happening all around. Even merchandise and food tents have their own sound systems set up, sometimes you are hearing 4 different tunes at the same time!