Day 3 – 18 August
After hearing Beenie Mans 'Rum & Red Bull' tune (on the One Day riddim), I was inspired a bit much, and had another massive day/night, that ended with drinking Mojitos at 8am. So I woke up feeling a little shady. But after some very nice vegetarian food, coffee, and some African drumming, I was feeling irie again. Rototom has a very nice day time vibe with lots going on, drumming, dance classes, yoga, record stalls, and the Social Forum zone, with talks promoting social issues affecting the world.
There is also the Reggae University which does screenings, talks and presentations promoting reggae and surrounding culture. I caught a very interesting talk about the reality of living in Kingston Jamaica, how the world views this, and current issues affecting the country. One issue highlighted was a new highway being built by Chinese businesses which will pass through the Pinnacle, the Rasta commune stared by Leonard Howell in the 1940s. This highway will mean the Jamaican government will be in debt to China, alongside the potential for a lot of culture to be destroyed, including the grave sites of early Jamaican Rastas who lived at Pinnacle. Read more in The Jamaica Gleaner.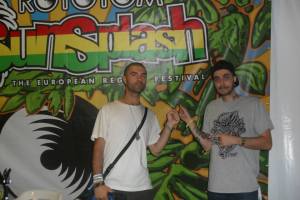 Then all of a sudden it was music time again. I caught Lasi, a talented Spanish youth on the Showcase stage, who performed a nice dancehall set and is definitely an artist to keep an eye on. Later on in the night I interviewed him for NiceUp TV.
I then divided my time between the main stage, seeing the Gladiators, Droop Lion, and Jesse Royal, and in the Dub Academy zone, Jah Revelation and Blackboard Jungle. During Mellow Moods set on the main stage, power cut out to the entire festival except for this stage! I think some people didn't even notice the place plunge into darkness, as Mellow Mood were anything but Mellow! Mad energy on stage! I hadn't heard too much from Mellow Mood prior to Rototom but I will definitely keep listening for new tunes from these talented youths.
Check a wicked YouTube clip of Mellow Mood, Paolo Baldini, Sr. Wilson, Forelock, Andrew I and Warrior Charge Sound System in a live fashion!
I experienced so much music it is hard to describe. Anthony B was full of energy. How he manages to dance and jump around, usually on one foot, while keeping in time and in tune with the beat is an impressive mix of art and athleticism.
Over at the Dub Academy, Gordon Sound played a really heavy set, no mic talk, and barley any lyrics in the tunes, just straight heavy, deep dub. Then Dubkasm and Solo Banton closed off the night in a heavyweight style. I also caught some very nice tunes from Gladdy Wax at the Ska Club.
Day 4 – 19 August
A cool part of Rototom is that Reggae Radio Rototom is playing during the day. With artist interviews and tunes, the station is playing at the festival, on the airwaves and online. I had an irie start to the day chilling out around the festival site, I listened to Chronixx sound check and just relaxed.
At 8pm, Easy Star All Stars took the stage, and it was refreshing to hear a more relaxed sound from the main stage. I caught some of Suns Of Dub at the Dub Academy but not as much as I wanted to. I managed to catch Raphael on the showcase stage, an upcoming artist from Italy. He performed a tight, energetic set. His set really took off when Lion D joined him on stage for a few songs.
I then caught Freddie Krueger, who rose to fame taking Ricky Troopers place in Kilimanjaro Sound. I enjoyed the selections and dubplate specials but again the mixing style isn't my thing – playing 10 seconds of a tune, pulling it up, yelling on the mic, running tunes over the top of each other, not in time, lyrics clashing. I just don't get that mixing style, when it's easy to juggle riddims and mix tunes nearly as quick, but smoothly. But people were enjoying it so maybe I'm just being a hater.
There was a real buzz at the festival to see Chronixx, and when he took the main stage he did not disappoint! He performed his tunes "Alpha and Omega", "Ain't No Giving In", "Smile Jamaica", and my favourite, "Most I" on the Scriptures riddim.  Kabaka Pyramid joined Chronixx on stage and took Rototom to the next level, then Jah 9 and Jesse Royal joined them both and Rototom exploded!  These artists are offer dubbed as Reggae Revival artists, but the real inspiration for their music lies with J.O.E. which stands for Jah Over Evil, but is also the name of their childhood friend Little Joe who passed away at 24.
Alpha Blondy then took the main stage. His tunes are not so much my thing but the tune "Jerusalem" was performed well and was definitely a talking point, with the crisis in Israel. I spent the rest of the night skanking to Earl Gateshead playing some nice ska and rocksteady, being delivered in typical Gateshead fashion, "yeah yeah yeeeaahhh". Then it was over to the Dub Academy to hear Murray Man chat up a storm with the resident sound at Rototom, Black Board Jungle.