Day 5 – 20 August
At the Reggae University I saw the world premiere of "Escape to St Croix", a film about the Reggae scene and Rastafari culture in the Virgin Islands. I highly recommend seeing this, some of the live footage of artists like Ancient King, Junyah P, and Fiyah performing in the studio gave me goose bumps. Watch the official trailer.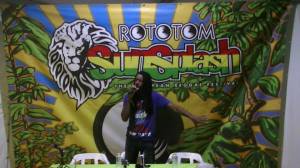 It was a very busy night of music. First I checked out Suns Of Dub and Mafia and Fluxy on the Showcase stage. Just as their set ended a very heavy storm came through. Jr Kelly later said in the press conference that "the African drummers on the main stage brought the rain, and rain is a blessing as it is part of nature and was needed at this time". In a way he was right, the festival felt refreshed after the rain. All the stalls and even the music stopped, but then Addis came back to the mic stand and much to the crowds delight, played a few notes on his melodica, then Ras Jammy played some dub, it was a really special moment.
The rain eased and I dashed back to catch Italian reggae artist Lion D for an interview.
Back to the Showcase stage for dancehall veterans Silly Walks, and a new vocalist Righteous Child, who played a nice set and had me dancing and really enjoying the vibe. I managed to catch some of Jr Kelly on the main stage bringing his positive Rastafari message to the people. Next over to the Dub Academy to catch YT and Green Light sound, who managed to balance a lot of meditative sound system tunes against more hype tracks, with YT and his unique chat style.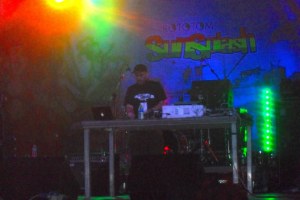 One of the biggest draw cards was Sean Paul was on the main stage. I have been a long time SP fan, and liked some of his performance, but in my opinion he didn't come close to Kabaka Pyramids show. However in saying that there were thousands of people dancing and enjoying it!
At 2am David Rodigan hit the Dancehall stage. I have been following Rodigan for years and to finally witness one of his shows was an experience and history lesson in reggae culture. The rapper KRS 1 invented the term 'edutainment', combining the terms education and entertainment, and that is exactly what Sir David Rodigan did. His set began from the early 60s, progressing to all of the big tunes of the moment. I had been hearing these tunes for the past few days from a lot of DJs, but when Rodigan plays them, he draws out the emotions and delves into the history, by giving stirring speeches before dropping the tune. DJs/selectors take note. I then saw most of Heartical sound from Germany, before I was too tired to stand, so to bed it was.
Day 6 – 21 August
Reflecting back on the last 6 days, it's strange to compare living in New Zealand and Australia to Europe. It is rare to see so many international artists, in 8 days you see as many if not more than you see in a year in Australia or New Zealand!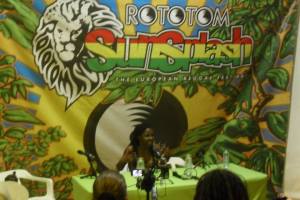 Jah 9 performed a very inspiring, spiritual set. Different from Kabaka, Chronnix and Jesse Royal, her set was much more dubwise and a slower pace. She opened with the tune "Preacher Man", and throughout she made many references to Jah Rastafari, living with integrity, and holding yourself high in your mind and heart. Her big tune "Steamers A Bubble" went down a treat, with the crowd singing along and skanking to a very extended dubwise session.
Safari sound were the best dancehall selectors I saw at Rototom, finally a dancehall DJ that knows to how mix and blend tunes! Then from dancehall to deep roots, Midnight performed on the Main stage and played an amazing set, giving a moving performance.